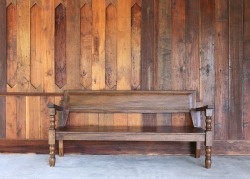 You've spent days crafting a beautiful, handmade wooden Adirondack chair. You used high end wood, and carefully cut each piece. You used a trusted brand of combination screw and nail fasteners, that enabled you to work quickly, but easily back out a fastener if needed. The seat slats are perfectly spaced. The arms are wide and smooth. It's sturdy, but comfortable. Construction is complete. But you aren't finished, until you've finished. Proper finishing technique transforms your handiwork from a raw wood chair to a treasured work of art. Here are 5 tips to take your furniture to the next level:
Sand mindfully. When working on larger, flat surfaces, try using a random orbital sander. By moving slowly and applying light pressure, you can create a scratch free surface regardless of variations in grain direction. For hand sanding, be sure to sand only with the grain. Any sanding done against the grain will become visible once you stain the piece.
Consider using a wood conditioner. All woods and stains are not created equal. Some varieties like birch, cherry, pine, and maple don't stain evenly. Using a wood conditioner can help balance out the surface absorption. It also can help prevent the end grain from absorbing more stain than the rest of the surface, keeping your color even across the piece.
Choose the finishing product based on style, use, and wood type. There are countless ways to finish a piece of furniture. This is the step that so many wood workers dread, but also the step that takes your work to the next level. There are six general categories of finishes: shellacs, lacquers, water-based, waxes, oils, and varnishes. Each of these varies in protection, ease of application, style, and durability. Consider which of these factors are the most important to the use of the piece when determining which to apply.
Sand between coats. Whatever finish you choose, take the time to lightly sand between coats. Use a portable light source held closely to the surface to help you see small dust specs and bubbles that may have formed after your first coat.
Make a Sample. Before you sand or stain your hard work, make a sample and test your plan. Use all the same methods you intend to apply, including sandpaper method, sandpaper grit, conditioner, and stain. You may find the combination you think will work creates a look you don't like. This step may feel like a waste of time, but this small time investment can really pay off if you find you need to alter your plan.
You care enough about your furniture construction to put time and effort into choosing the best materials to build it. You sort through piles of raw wood to find those with the right strength, grain, and durability for your project. You use the best fasteners, like SCRAIL®, to help you build efficiently and durably.
And Mini-SCRAIL® fasteners are another jewel in the BECK Fastener Group® toolbox. Here are just a few reasons why they are a great choice for outdoor furniture:
Features the same innovative design, practicality and ease of use as the SCRAIL® fasteners but are ideal for use in outdoor furniture due to their smaller size.
Smaller design makes them easier to handle and install for more intricate jobs.
Can be used anywhere that traditional screws are used.
Offered in several finishes including electro-galvanized, stainless and other finishes upon request.
Take your work to the next level by putting that same level of care and attention to your finishing. If it's worth your time to build it, it's worth your time to finish it.