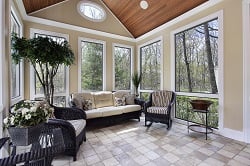 Humans feel happier when they get more natural light, vitamin D is a proven mood booster. Porches and decks are lovely sun spots when the weather is good, but you miss some of those indoor comforts like climate control and lack of bugs. In the Winter, decks clearly aren't an appealing option. Sunrooms are the perfect solution. While they first became an option in the 1960's, sunrooms have come a long way. Here are the key features of a modern-day sunroom.
Skylights
While the walls of a sunroom are often glass with screens, why not bring in light from above as well? Skylights in a sunroom allow the mid-day sun to get through. If you choose a casement style, they can also serve as a heat dump on really hot days.
Fireplace
While we think of sunrooms in the warmer months, cozying up with natural light on a snowy day can feel like a real upgrade for a homeowner looking for something a little extra. A gas fireplace is clean-burning, smokeless, and doesn't require vents. It can be easy to install and more environmentally friendly than a wood-burning one.
Door Upgrades
If you're building a new sunroom, skip the traditional door. Make the sunroom an extension of the room it's built off of with a specialty French or bi-fold door. It can make your interior room feel twice as large and bring that natural light indoors. It will also make your sunroom feel more spacious.
Electrical
Plan for your future needs by strategically placing outlets for lamps, speakers, or anything else you may want to bring out. Consider a ceiling fan as well, as hot days can get much hotter in a glass room and that airflow can make a huge difference.
Wood Interior Ceiling
A sunroom is intended to bring you closer to the outdoors so take advantage of natural materials like a wood ceiling.
No matter the features your sunroom additions have, be sure to build them to last with quality materials and tools. Using quality tools and fasteners, like SCRAIL® from The BECK Group, offered by BECK America, for all your repairs and construction to ensure your handiwork lasts and looks good too.