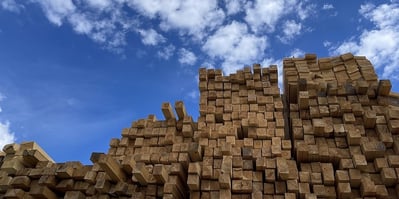 Here in the United States, cross-laminated timber (CLT) is in its infancy as an industry. However, if projections hold true, and demand for sustainable building practices continues, it's an industry that is liable to grow rapidly. In fact, it's something we've seen with the rising demand for the LIGNOLOC® Wooden Nail System from BECK, which is a system of sustainable wood fasteners that is used in cross-laminated timber projects and mass timber construction, as well as many additional uses.
So where is the CLT industry headed? Let's take a look—and we'll also show you more about LIGNOLOC® and the automation advantages you can achieve with it.
How the CLT Industry is Growing
Today, there are 10 manufacturing plants for CLT in the United States—and they're working hard to produce products for use all over the country. But back in 2014? That's when the U.S. Forest Service started promoting the use of CLT, and back then, projects using these products were almost unheard of. Only a handful of cross-laminated timber projects had been built at that time, and there were no plants to manufacture these products.
That contrasts sharply with more recent numbers from 2020. According to the U.S. Forest Service, at that time, there were 384 mass timber projects either underway or completed, and more than 500 in design.
With that, building codes in many states—including California, Oregon, Washington, and Utah—are opening up to approve tall timber building. Overall, the CLT market as of 2021 stood at $944.9 million—and it's expected to grow by 13.8% between 2022 and 2030.
How Does Cross-Laminated Timber Construction Work?
CLT construction is a relatively simple concept. Instead of using 2x4s or 2x6s to create a stud-based framework for a home, builders instead use CLT panels to create the structure. These panels are made up of layers of kiln-dried lumber assembled at right angles to each other. The concept works a lot like plywood. Manufacturers layer three, five, seven, or nine layers of lumber, all glued together, to create an exceptionally strong panel that offers structural rigidity.
How LIGNOLOC® Was Made for CLT
One of the primary goals behind the development of the LIGNOLOC® system is for use in CLT facilities. These fasteners attach the wood layers together to keep everything in place as the glue between the layers is curing. In fact, this system has received the ETA (European Technical Assessment) for load-bearing wooden connections using LIGNOLOC® wooden nails—which means it can be used for load bearing connections such as for framing and sheathing.
And that's not all! With that in mind, you may be interested in learning about a project that BECK is working on in partnership with KEHRATEC. This program involves creating a flexible, digital robotic platform using the LIGNOLOC® Wooden Nail System to create cross-laminated timber elements.
This is the kind of automation that CLT facilities can put to work on their production floors. With BECK & KEHRATEC's technology, this system will feature camera-guided robot automation to automate the construction of cross-laminated timber elements partially or fully. This system is also for small and medium construction companies and carpenters who want to be able to manufacture their own metal-free wall and ceiling elements quickly and easily. To learn more about this project, visit the link below.