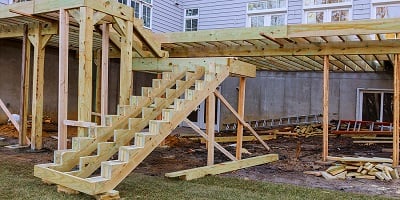 Decks are one of the most popular home improvements out there. If you're a contractor, you probably get asked about deck building all the time—and so do your competitors! So how do you build a better deck (and a better portfolio) than the competitors? The right fastening system is one way to do it. You'll definitely want to check out BECK's INVISIDECK® Hidden SCRAIL® System. To help you get started, here some other things you can do to build the best decks possible.
1. Don't Skimp on the Stairs
The most common way to build deck stairs is with simple notched stair jacks—no risers and no side walls. While it works, there's a few problems with this method. Number one, the stairs can get wobbly over time because there just isn't as much structural support holding them in place. It's also harder for the homeowner to upgrade them later, like if they want to install lights on the risers while hiding wiring behind them. With all of that, this open design lets weeds grow up through the steps—and that can prove a pain for homeowners who want to simplify maintenance.
The solution? Install risers and surround the steps with skirting. This keeps them nice and solid, weed free since there will be no sunlight for weeds to grow, and homeowners will be able to install lights or make other upgrades as they wish.
2. Skip Mitered Joints
Every deck design is different, which means that on some builds, mitered corners will never be a possibility—but on other jobs, you might be tempted to create a mitered design, or the homeowner may ask for one if they want sections of the decking boards to run diagonal to each other.
The problem with this practice is the weather. Over time, decking boards will shrink and expand, so while those mitered edges might look perfect directly after installation, give it a few years for things to look not so perfect.
In cases where homeowners really love the look of mitered decking boards, try recommending products other than lumber, like vinyl decking or composite decking made from recycled plastics since these are less prone to shrinking and expansion due to temperature and moisture.
3. Try a New Seaming Method
When laying decking boards, the go-to method for most builders is to randomly stagger joints between one board and the next. Most builders do it this way because those staggered joins create a seamless look.
The problem is that it also creates a deck that isn't as sturdy. To start, wherever joints occur, the ends of each board must share the width of the joint, which leaves you installing fasteners very close to the edge of the board—and that makes it much more likely that the lumber will split. It also means that there is generally less support at the end of each board, which can lead to boards that lift or start to wobble over time.
The solution? Embrace seams but place them strategically on larger builds so that where you do have seams, they look purposeful. This also lets you install extra joists where seams will be placed so that you can place fasteners farther from the ends of the boards. Extra joists and extra fasteners lead to less shifting and wobble over time.
The SCRAIL® INVISIDECK® system is one more way you can improve your deck builds. What makes this fastener system special is that it offers a finished build with no visible fasteners at all. On top of that, the SCRAIL® INVISIDECK® system lets you install decking boards up to five times faster than when using traditional decking screws, making this system perfect for busy contractors who are installing decks all summer long, needing to get on to the next job quickly.
Be sure to take a look—and check out this brochure—to learn how the SCRAIL® INVISIDECK® system can save you time and money while helping build a better deck!