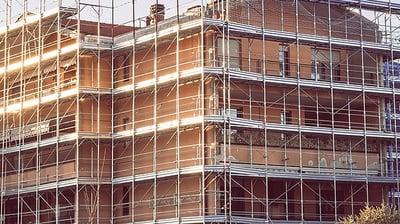 There are many steps to planning a smooth commercial building remodel. From writing an accurate quote to hiring the right subs, every step you take during the planning process can affect the outcome of your project. Most critical is to have the right team and the right tools for the job.
ET&F® fastening systems support your success on the job site because they're specially built for fastening steel and cement, as many commercial projects require. Using this BECK system for installing steel studs, your team of qualified contractors can find success in projects requiring fast, efficient steel framing.
Nail the Quote
Nailing the quote is the first step to starting a successful commercial construction project. Aim too high, and your company could lose the job to a competitor. Too low, and you'll lose money. While some commercial construction companies employ full-time estimators, smaller companies are unable to dedicate their resources in this way.
Outsource your estimates. If you don't have the team for an in-house estimator, work with a company that specializes in construction estimates. Your company will save time and write more accurate estimates. Look for a company that can write the estimate specifically for the zip codes where you work.
Choose the right estimation tools and bidding software. This is important if you're keeping your estimation work in-house. There are several software companies that create estimation and bidding software. For a streamlined process, look for an all-in-one solution that's specific to your trade.
In addition to writing accurate quotes, it's important to tell the client when the quote will be ready, and then deliver on time. Nothing sets a bad precedent like failure to deliver the quote in a timely fashion.
Set the Schedule
Use project planning software to create a timeline for each step of the project, including deadlines for completing each phase. Cloud-based planning software allows you to share the schedule with off-site members of the team, as well as stakeholders and subs, if needed.
Establish Methods of Communication
Poor communication is often responsible for failures in construction projects. Experienced contractors take steps to keep their communication simple and streamlined.
Create a single point of contact for the client.
Maintain communication through construction management software to make sharing information simple and efficient.
Establish a rapport from the first point of contact, to build trust with the client and ensure lines of communication remain open throughout the project.
Write a Thorough Contract
A contract is a tool that protects you and the client from communication mishaps. Use the contract to pass along important information, such as:
Timelines
How/when will permits be obtained
Payment terms and schedules
Set up and clean up information
Material information including brands, models, and more
Make your contract as thorough as possible to ensure the client knows what to expect at every step of the process.
Find the Right Subs

If you're working with subs, check their licensure, qualifications, and references before hiring. Work with subs who have good communication and organizational skills to keep the job moving.
Most important of all is to use tools that are built to be durable, long-lasting, and efficient, to keep the job proceeding on time. ET&F® systems are tools designed for structural steel construction. They're easy to use, resulting in a low rate of operator error. System products like the TRIMFAST® Heavy Duty Model 210TA System and the Steel Framing Model 500A System are specifically designed for cold-formed steel construction, producing accurate, long-lasting results.
To see the whole line of ET&F® tools, click below.