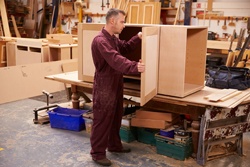 It doesn't matter if making furniture is a hobby, full-time career or a one-time gift giving option, the goal is to produce quality pieces that look amazing. Those that work with wood on a regular basis know how rewarding a finished product can be, especially when a happy customer buys it or a grateful friend can enjoy it for years to come. But, there is one factor that can make a huge difference in that final product.
Our advice, especially for novice furniture crafters, is to start out simple. Build your confidence and experience working with basic carpentry skills. If possible, avoid pieces that require rounding, grooving and notching at first, and then work up to more detailed pieces.
As with any project, the old expression "measure twice, cut once" is as important as ever when working with finer woods, more angles and smaller pieces.
Constructing furniture can be like artwork. Take your time, as the extra effort to the details will show in the final product so there's no sense in rushing through the project.
Use the resources out there on the web. A quick search and you can find detailed instructions, even videos, of projects. A novice woodworker or skilled artisan can use online plans to learn how to build a storage bed. Or, how to craft a beautiful dining room table from reclaimed wood.
The one feature that can assist all projects are Mini-SCRAIL® collated fastener.
They feature most of the same advantages and innovations of all SCRAIL® fasteners, but are especially practical and useful for furniture manufacturing applications. The Mini-SCRAIL® are specifically sized for use in manufacturing all types of furniture, both for outdoor and indoor use. Their smaller size makes them easy to handle and perfect for intricate projects and areas where space is limited. They can be utilized anywhere ordinary screws are used, and are available in several finishes including electro-galvanized, stainless and other finishes upon request.