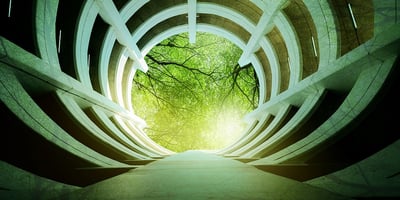 The construction industry hasn't always been good for the environment. In fact, according to the International Energy Agency (IEA), the buildings and construction sector accounted for 39% of energy and process-related carbon dioxide (CO2) emissions in 2018. But in recent years, a great shift toward sustainable construction has taken place. Recognizing that buildings can no longer be a source of such harm, many businesses have sought out sustainable construction for their buildings, and many construction firms have turned their sights toward green construction techniques.
Using natural, renewable building materials is a part of this push. The LignoLoc® Wooden Nail System from BECK includes compressed beach wood nails. It's the perfect tool-and-nail system for contractors who are serious about using renewable resources in their construction projects. But there are many methods to creating a more sustainable building design. Here are some tips to consider.
Sustainable Building Techniques
Build structures that are made to last. Structures that degrade quickly contribute to landfill waste. Use high-quality materials that are meant to last. Consider the longevity of building materials as you choose which materials to construct buildings.
Use natural light. Position windows to capture natural light and install skylights and clerestories to light up deep interior spaces. Use light-colored paint on the walls inside to reflect daylight and make spaces seem even brighter.
Use natural ventilation methods. Natural ventilation helps keep interior spaces comfortable without the use of an HVAC system. There are multiple types of interior ventilation systems, including temperature-induced ventilation and humidity-induced ventilation. Work with HVAC experts to install the right ventilation systems for your interior spaces.
Use sustainable building materials. Traditional building materials aren't always eco-friendly. There are many building materials that could be considered "green," including precast concrete, bamboo and salvage materials like reclaimed wood and stone.
Eliminate excess space. Generally speaking, larger structures require more energy to heat, cool, and maintain. By creating structures that are customized in size for their purpose, you save energy.
Use water thoughtfully. Use porous concrete to filter rainwater back into the ground and use a water collection system to collect water for landscaping.
Harvest renewable energy. Renewable energy systems help save money on utilities while providing an endless source of energy for modern buildings. Install solar panels, wind turbines, and other renewable energy systems as appropriate to make full use of the possible renewable energy sources.
A New Direction for the Construction Industry

A 2021 article from the BBC reports, a third of the world's overall waste is created by construction activities. We believe the construction industry can turn this around by using the right materials and techniques. The LignoLoc® Wooden Nail System can be a part of that effort. LignoLoc® is the world's first shootable wooden nail and BECK created this award-winning system to be a part of the new effort to create sustainable, responsible building materials.
Made from Central European beech wood, the LignoLoc® wooden nails are more than just sustainable: they're also as strong and durable as they can be. Using them with a specially developed FASCO® (a BECK member) pneumatic nailer, LignoLoc® nails require no pre-drilling, and create a permanent bond. LignoLoc® is responsible for more than 70% lower CO₂ emissions vs. conventional systems. To learn more about LignoLoc®, you can see the system in action in the video below!