They may look natural, but hiking trails don't happen without help.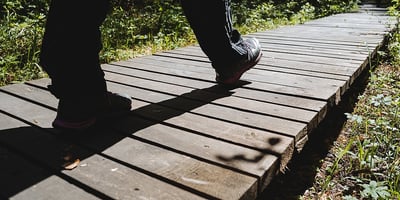 Building a hiking trail is a process, one that often involves constructing a wooden walkway or footbridge. Wooden pathways carry hikers along the ground, while footbridges take hikers over small dips. Both can help hikers' clear tough terrain while enjoying the natural beauty around them. Although they're simple structures, there's an art to creating hiking paths that will bear the weight of hikers, but that also fit in with the natural surroundings and stay safely in place.
The Splitless.Decking.SCRAIL® system from BECK was designed for projects like this. The cordless equipment allows for construction that occurs off the beaten path (literally). Whether you're deep in the woods or deep in your backyard, the Splitless.Decking.SCRAIL® System gets the job done.
When and Why to Build Wooden Hiking Walkways
Footbridges and walkways made from wood allow the trail to rise above muddy areas in places with poor drainage. Low-lying areas surrounded by sharply inclined hills and cliffs are usually the best spots for installation.
To decide for sure where to position a footbridge or wooden walkway, visit the trail site after substantial rain. Look for areas with standing water, deep mud, or slippery, grassy terrain. This is where your handy work will have the most benefit.
What Type of Wood to Use
Finding the right kind of wood for your hiking trail may be less challenging than you imagine, as many people use whatever wood resources are available on the trail. Short stringers for very short structures can be made from relatively straight fallen logs and trees that are removed in the making of the trail. Longer structures should be made from actual construction materials. Old railroad ties and treated decking lumber both work for these purposes. For constructing the base of each structure, using treated decking wood or composite is helpful.
Regardless of the material you choose, wood that's in good condition upon installation will need less maintenance over time, so choose wisely. If you're using wood from the trail, examine the specimens carefully. Look for soft spots and stains that would indicate the wood is rotting. Mushrooms are a sign of rot inside the wood. These logs will quickly fall apart.
Where to Perform Construction
Take your measurements on the trail, then start construction in a location with a level, hard work surface, like a workshop. Create the frame in the workshop, then move the frame on-site to finish the process.
How to Keep Bridges in Place
Installing a wooden hiking structure is simple. Build a structure consisting of two stringers and perpendicular decking. Extend the stringers beyond the decking. Lay it in place, then to anchor the structure, fill the hollow space between the stringers with gravel. Build up the earth around the stringers.
But to create a walkway that can withstand years of use, work with quality construction products like BECK's Splitless.Decking.SCRAIL® System. It has been designed specifically for the creation of decks, footpaths, boardwalks, and more. These SCRAIL® fasteners have blunt "splitless" tips that reduce splitting in the decking and stringers. They also have a patented Diamond Coating for superior holding power (so you won't have to spend your time replacing screws that pop out along the trail).
Learn more about the Splitless.Decking.SCRAIL® system by clicking below⬇️!