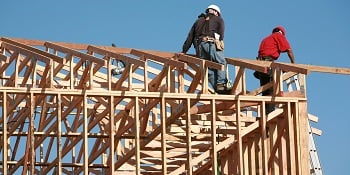 After a hiatus, most construction crews are getting back to the job, but things look a little different on the worksite. Some states only allow skeleton crews to work with strict rules that all employees must stay six feet apart at all times, while others are enforcing one tradesman per worksite. At the very least, construction crews are recommended to decrease numbers and many crews have been forced to make cutbacks because of budgetary reasons.
The obvious concern is projected completion times. In the new COVID-19 world, the initial project projection most crews defined in their bids is out the window. Not only are construction crews headed back to worksites two months behind schedule, but they also have less crew than ever to help push them towards completion.
While customers are likely to be somewhat understanding, business firms and government agencies don't have money to waste right now either. That means they want their jobs done, and they want them done now. With fewer staff members, it is now more important than ever to make the most of the crew you've got. So how do you make more with less?
Keep Things Clear and Focused
The first thing all contractors and project managers need to do is keep the skeleton crew they have on-task and eliminate any opportunity for confusion. In order to improve efficiency, contractors and managers need to clearly and explicitly outline the daily tasks of their crew. While it may seem repetitive at times, regular, reinforced instructions help reduce the occurrences of costly mistakes, and it helps keep crews focused on the end goal. Hearing the game plan repeatedly helps create unconscious motivation and direction.
Hold Regular Virtual Meetings
Along the same lines, limited crews on-site may make it hard to effectively oversee a project, but it doesn't make it impossible. Virtual oversight will likely become normal in many instances both now and after the COVID-19 crisis passes. Virtual meetings allow a team to meet in full without increasing the risk of spread through interaction. It is also a great way to include everyone in one meeting. Many companies will find that virtual meetings are a great way to actually lower the number of meetings that need to take place. Instead of hosting meetings off and on the worksite, every participant can meet at the same time due to virtual meeting places and reduce time waste.
Maximize Efficiency with Smart Tools
When time is of the essence, you need to equip your crew with tools that are designed to place less strain on the user so that they can accomplish more in less time. Pneumatic tools offered by BECK America allow crew members to increase their efficiency without increasing the strain on their bodies. For instance, the new F70G Duplex Nailer is a gas-powered, cordless pneumatic nailer that features improved balance and reduced weight to streamline its use without requiring a power source.
If you need to update the efficiency of the tools your crew has access too, check out the entire line of FASCO (a memeber of the BECK Group) pneumatic tools. The F70G Duplex Nailer is just the tip of the iceberg when it comes to tools that work for you instead of the other way around. To find out more about efficient fasteners and nailers offered by BECK America, call us at 800-239-TOOL, search our website for the latest pneumatic tools, or click here to see the F706 Duplex Nailer up close.