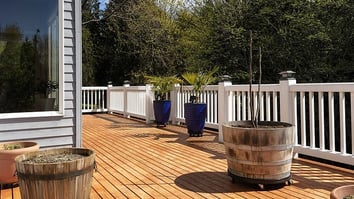 Decks are a part of many homes that often go unappreciated for their potential. This is a major opportunity for useful renovation work. Best of all, even if you're pressed for time in between major projects, or your client is on a tight budget, many deck renovation projects can be done quickly and at a low cost.
With a few handy tools such as BECK's Splitless.Decking.SCRAIL®, you can deliver a deck renovation project that will leave your clients deeply satisfied, especially during the sunny summer months. Here are several key concepts you can propose.
Safety-Conscious Renovation
Let's start with the most basic and fundamental thing you can propose for any client's deck. Many, many decks end up moderately or even badly deteriorated due to constant exposure to the elements. This deterioration can include dangerous things like rotted or leaning support beams, loose or rotting joists, the grounded footings of deck supports, and of course, the floorboards and railings too. This renovation project can be as simple as a repair package for a more secure, safer deck.
Reflooring the Deck
Even if a deck isn't rotted enough for the floor to be a danger, it might still be worth replacing the flooring with new materials. Especially in wooden decks whose floorboards have become warped and are starting to rot.
You might suggest that your client invests in new, more durable flooring materials such as composite boards, which look and feel just like real wood, or you might simply point out that the old floorboards are loose and warped, and should be replaced with new wood decking.
Another useful reflooring benefit is that it lets you install underlying waterproofing, which can create a usable dry space underneath the deck.
The Many Benefits of a New Roof
Decks that are exposed to the full brunt of sun, snow, and rain are ones that deteriorate much faster. They're also less usable than their covered counterparts. For these reasons, a roof is a superb suggestion for your client.
Let them know that with a simple roof structure, they'll be able to enjoy a deck that lasts longer, it offers friendly summer shade, and their deck will then become a perfect spot for relaxing even on rainy, lazy afternoons.
What's more, you can explain that a new roof or even a smaller pergola-type structure will cool down the entire space around the deck in ways that positively affect the interior of the home, which usually includes a living room right beside the opening to a deck.
Refinishing and Repainting
As a final suggestion that's the simplest and most cost-effective, you could offer to refinish and repaint your client's deck. Exterior surface coatings, whether made of acrylic paint or oil-based varnish, tend to deteriorate in the elements much faster than the structure they cover. Thus, a deck that looks worn out might be perfectly sound and only in need of a sound refinishing that completely spruces up its appearance.
You can explain to your client that refinishing entails sanding down loose paint or deck stain, pressure washing the entire structure to remove grime, priming the unpainted spots, and then restaining, varnishing, or repainting. A comprehensive refinishing will also cause a deck to endure better against the elements.
Using the Right Tools for Any Deck Project
If your client approves your suggestions for a deck renovation project, chances are excellent that a large portion of the work will include fastening in new joists, beams, floorboards, or other parts. For these tasks, you will absolutely want to use materials that last as long as possible. BECK's Splitless.Decking.SCRAIL® is just the solution for all types of decking work.
What sets this fastener system apart is the specially developed blunt "splitless" diamond point in combination with BECK's patented Diamond Coating. It has a blunt point to minimize the splitting of the wood as well as the Diamond Coating for superior holding power.
Developed for fast installation of high-end decks, the Splitless.Decking.SCRAIL® is also 8 times faster to use than bulk screws. They drive in like a nail but have the holding power of a screw. Click below to learn more about this system!