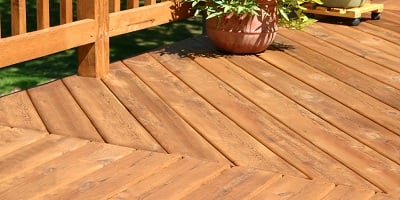 With warmer months on the way, demand for new decking is on the rise. Whether you're interested in DIY deck construction or if you've experiencing a surge in orders for your deck business, you should always choose the most suitable deck building materials.
Pressure Treated Wood
Pressure Treated Wood, PT Wood for short, is the most popular deck-building material in America. It's the option to choose for affordability and ease of use. PT Wood typically consists of low-price grades of wood that are chemically treated to resist rot, decay, and wood-boring insects. However, PT Wood needs to be stained, sealed, and washed on an annual or biannual basis. Even perfect maintenance practices will not extend the lifespan of PT Wood beyond 10-15 years, at which point it becomes increasingly urgent to replace the wood.
Pros:
Low cost: approximately $1 per linear foot
Easy to cut and install
Cons:
Lacks the longevity of other options
Costs of long-term maintenance will reduce overall cost-efficiency
Regular maintenance needed to treat splintering and warping
Natural Wood: Redwood and Cedar
Redwood and other suitable, high-quality woods are an alternative to PT Wood. They can be several times as expensive depending on grade and location, but they're the first choice of many enthusiasts. While these types of wood handle the passage of time much better than PT Wood, natural woods still require regular maintenance. The other big advantage of natural woods is their vibrant colors and rich grains, which have long made them the gold standard.
Pros:
Lightweight
Resilient
Natural wood may cost $4 per linear foot or more; areas with local production may find reasonably good grades of wood for $2.50 per linear foot
High grades of wood will last 30+ years with proper maintenance
Cons:
Much more expensive than treated wood
Significant maintenance is required
Composite Wood
Composite wood is a blend of natural wood fibers and plastic. Early composite wood was not convincing, but modern production techniques provide an array of colors and grains that closely resemble real wood. Many purists swear it off, but composite wood has its perks. In particular, the composite construction means that it will have no cracks or knots and will not warp or splinter with time. Composite wood is almost free of maintenance, but as a result is also one of the more expensive deck-building materials.
Pros:
Nearly maintenance-free; only an annual power wash required
Lasts for 25-30 years
Many options of colors and grains
Cons:
Many designers and homeowners dislike that composite wood is manmade
Composite wood runs for $2.50 per linear foot
Choose the SCRAIL® InvisiDeck® Hidden Fastening System
There are many excellent choices for deck materials, but when it comes to fastening systems, one stands above the others. For the best in deck construction, the SCRAIL® InvisiDeck® Hidden Fastening System should be your first choice for grooved composite deck boards. This fastening system, distributed by BECK America, features an easy-to-use 3 step installation system for picture-perfect decks. Find out more about this and other products offered by The BECK Group by calling us at 800-239-TOOL (8665) or searching our website.