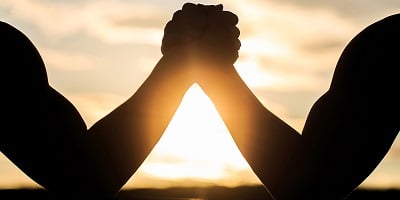 When working with wood, you need fasteners you can rely on for strength and durability. BECK is the only company that offers a truly unique coated fastener that delivers smooth performance and outstanding strength: Diamond Coated Fasteners. These innovative fasteners can hold up to 60% more weight than non-coated—a significant increase for wood-to-wood fasteners. To help you further understand why these fasteners can make the difference in your builds, let's explore diamond coating.
BECK's diamond coating is a strong, proprietary mix of thermoplastic resins bonded to the fastener and designed to increase adhesion. These resins melt with the frictional heat of using the fastener, expanding into the wood, or wood-based material, and resulting in better binding and easier application. The coating also lessens friction and working pressure needed when driving in the fastener, making it easy to use and resulting in a stronger, sturdier connection. Easier drive-in translates to easier installation and longer life for your compression tools.
By coating fasteners with BECK's patented diamond coat, fewer wood fibers are destroyed during the installation process, resulting in additional contact points and more holding power.
Many BECK fasteners are offered with this coating. In fact, this is the standard coating on several BECK products, including SCRAIL® SUBLOC® PRO for subflooring, Jumbo Strip Nails, and Fence Staples.
Better Withdrawal Values
Intertek, a product testing and certification company, tested BECK's diamond-coated fasteners and confirmed that these fasteners have better withdrawal values. For example, screw shank nails with this coating can reach a withdrawal value improvement of up to 39% versus standard-coated screw shank nails. When using ring shank nails, the gains can be as much as 93%.
However, the most impressive enhancement of BECK's diamond-coated fastener withdrawal values has been found with their Diamond Coated Jumbo Nails. In-house tests at BECK's Test Center showed withdrawal values with these nails increased by 150% compared to standard coated nails. Want to see the test yourself? Check out our test video using regular fasteners vs. our diamond-coated fasteners.
What Equipment Can Use Diamond Coated Fasteners?
Virtually any type of equipment can be used with nearly all of BECK's diamond-coated fasteners, including:
The BECK'S diamond-coated fasteners are easier to use, deliver improved strength and boost the longevity of your equipment, no matter what tool you're using. Products like these unique fasteners are just one more way we work harder to supply our customers with better products for more efficient work. Contact us online, or by calling 1-800-239-TOOL (8665) to learn about all the ways we offer to make work easier, better, and more efficient for you and your team.