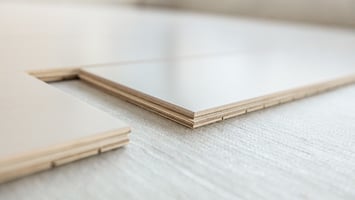 This is a question that sometimes results in a little confusion. Is there a difference between underlayments and subfloors? Yes—there is. Do you always need to use both? Often—but sometimes, you can get away with just the subfloor. But there's more to it than that. Below, we'll dive into the types of flooring available, which underlayments to use with them, and more. We'll also talk about the SCRAIL® SUBLOC® PRO System, which is ideal for installing subfloors.
The Difference Between Underlayment and Subfloor
If you were to look at a cross-section of a floor featuring both, you'd see that the subfloor is the bottommost layer. The flooring itself, whether carpet, tile, or another material, would be the top. The underlayment would be sandwiched between the two.
That's the key difference—subflooring is always the bottom layer, and underlayment, when present, is always the middle layer.
When to Use Underlayment
This is a tricky question to answer because underlayment serves a variety of purposes depending on both the subfloor and the primary flooring material. In general, uses for underlayment include:
Insulating drafty floors
Leveling a subfloor
Making floors more comfortable
Preventing damage to the primary floor or the subfloor
Those are some use-case scenarios for underlayment. When you're on a construction job, deciding whether to use an underlayment will take a little forecasting. For instance, if you're installing a floating wood floor over top of a subfloor sitting on joists, all the layers of wood can lead to floors that squeak and creak as you walk across them, which means you may want to install a rubber subfloor to minimize noise.
Types of Floors and Underlayments
Types of underlayments typically depend on the type of flooring you'll be installing. Here's a quick guide to some of the most popular flooring types and their matching underlayments:
Carpet: No matter what type of subflooring you're installing, foam carpet padding is a required underlayment beneath carpet. It helps insulate floors, but more importantly, it also makes carpeted floors softer, and it prevents unnecessary wear on the carpet over time.
Tile: If you're installing tile over concrete, you may not need an underlayment. On wood floors and other surfaces, however, you should install a concrete board underlayment. This increases adhesion and it helps protect the wood subfloor from any moisture that may seep through the tile.
Wood: There are a variety of

underlayments for wood floors

. Foam, felt, and cork are all options that can offer a small amount of insulation between wood subflooring and wood flooring—and they'll also help reduce

creaks and squeaks

. Over concrete or in areas where moisture may be a concern, use rubber underlayment, which prevents moisture damage from both above and below.
Laminate: For laminate floors, there are a couple of types of underlayment. Foam laminate can be used to prevent wear and tear caused by the floor and subfloor rubbing together, and it can also reduce the noisy, hollow sound of footfalls that laminate floors sometimes have. Foam laminate underlayment rated as a moisture barrier should be used in

kitchens

and

bathrooms

to prevent moisture damage to the subfloor. There is also acoustic underlayment, which makes laminate floors much quieter in busy areas.
Tools for Subflooring, Underlayment, and Flooring
Matching up flooring choices with the right underlayments and subflooring isn't the only part of the job. Your workforce should also be equipped with quality tools that make the work easier and more efficient.
That's why BECK offers the SCRAIL® SUBLOC® PRO systems. You'll find three different options: The SCRAIL® SUBLOC® PRO Wire Coil system, the SCRAIL® SUBLOC® PRO 20° Plastic Strip system, and the SCRAIL® SUBLOC® PRO 33° Plastic Strip system.
Which to choose for your build? It's all in the fasteners! The PRO Wire Coil system uses SCRAIL® 15° wire coil fasteners ranging between 1 ¾" to 3", whereas the other two systems use plastic strip fasteners of the same length. Each PRO system offers a different angle—20° or 33°—making it easier for you to choose the ideal tool for the job. Each of these tools will make it easier for you to install subflooring quickly, and when you need to install underlayments that aren't typically glued down—concrete board, for example—use SCRAIL® SUBLOC® to fasten the underlayment to the subfloor. Learn more about each of these tools below!