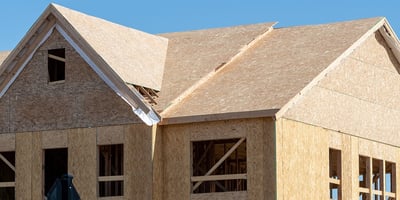 For many builders, oriented strand board (more commonly known as OSB) is the go-to for sheathing. However, you may not have been aware that there are actually many different types of sheathing out there, each with their own unique properties.
Here, we're going to explore some of the different types of sheathing you can use for various builds. On top of that, we're going to give you a look at the FASCO® F44AC G-50 TL stapler, which is a great tool for fastening not only sheathing, but also subflooring, roof decking, and more.
Structural versus Non-Structural Sheathing
What is sheathing? As most builders are aware, it's a barrier that you install around the outside of a building. Most sheathing is made of panels—either foam, plywood, OSB, or another material.
Broadly speaking, there are two different types of sheathing: Structural and non-structural. Structural sheathing is usually a strong, solid material like OSB or plywood, and it's meant to lend extra structural stability to the building. Non-structural sheathing is usually a lightweight material like foam. It doesn't add any structural support—and it doesn't generally need to since the primary purpose is to provide insulation.
Types of Sheathing
Next, let's look at a few of the most common types of sheathing available.
1. Oriented Strand Board
Oriented strand board (OSB) is a durable material that offers greater water resistance than solid wood—and usually greater shear strength, too. It's among the most popular structural sheathing options, and as such, it's an inexpensive alternative. The major drawback to OSB is that while panels tend to be water resistant, the edges can soak up water easily if exposed.
2. Plywood
Coming in as a little more expensive than OSB, plywood is another popular choice for structural sheathing. It's lighter than OSB and has good moisture resistance—though as with OSB, if the edges are exposed, the plywood will absorb water and swell, which can cause the plywood to peel apart.
3. Foam Board
As the most popular type of non-structural sheathing, foamboard is primarily used to create a tight, leak-free building envelope. Often, builders install it over top of structural sheathing but before installing siding to give the building a little more insulation. However, if you plan to use it without structural sheathing, you'll need to make sure to put bracing behind it.
The advantage of foamboard is that you can use it instead of house wrap—and it will help lower future energy bills. However, be sure to consider the drawback, which is that it must be installed with exacting precision, otherwise, it can leak and end up not contributing much at all to the home's energy efficiency.
4. Gypsum Sheathing
Similar to drywall or fiber cement board, gypsum sheathing is a type of sheetrock that you can use when you need a waterproof or fireproof layer. In fact, while gypsum sheathing is overall not particularly common as sheathing, builders do use it a lot in wildfire-prone areas. As a structural product, it's just as strong and durable as fiberboard—but with even better water resistance. However, these advantages come with a big price tag. It's among the most expensive types of sheathing available.
5. Diagonal Tongue and Groove
While builders don't use this type of structural sheathing anymore—mainly because there are stronger, more durable products that are easier to install—you will see this type of sheathing on a lot of older homes. For builders thinking of using this material today, it is a low-cost option, but because it isn't particularly popular, it can be hard to find. The low material price is also offset by the high installation cost. It takes a lot of time and craftsmanship to cut each board, hammer the tongues into the grooves, and fasten everything to the building's studs.
6. Structural Fiberboard
This is another structural sheathing option, one that isn't used as often because it's considered a premium material for its outstanding strength and durability. It also helps as a sound barrier, and as an insulator, plus it won't absorb water at all, unlike some other materials. While it does offer a lot of advantages, you'll discover that it's also an expensive material, and it can be tough to work with. Screw holes strip out easily, which means you may need to explore other fastener options.
Choosing the Right Fastener System for Sheathing
No matter what type of sheathing you choose, it's an essential job—and one that you can make easier and more efficient with the right kind of tools. That's why we recommend the FASCO® F4AC G-50 TL stapler.
This stapler gives you excellent ergonomics, a rubber comfort grip, a tool-free jam-clearing mechanism, and it's easy to load. In other words, you can work all day with this tool comfortably—and it will help you get the job done quickly.
With that, you can load a variety of staple sizes into it, plus it offers a depth control dial so you can get countersinks just right. It also delivers single shot and bump fire actuations, making it easy to switch from smaller jobs to big ones where you'll need to fire a lot of staples in sequence.
Want to learn more about the FASCO® F4AC G-50 TL stapler system? Follow the link below for details.👇