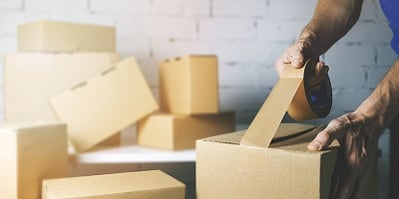 For any business that produces any type of product, carton closing is a necessary part of the process. It's also a process that can usually be made more efficient in a variety of ways. One way is by using the right tools to seal cartons—like the Mezger® Stapling System, which is a complete pneumatic nailing and stapling unit. Let's explore some other ways to make sure that your carton closing, and packaging processes are as efficient as can be.
1. Save Money on Materials
When was the last time you evaluated the efficacy of the materials you use with your carton closing products? If it's been a long time, chances are, you could be making improvements.
In most cases, the chosen carton closing materials are overkill for the job at hand. For example, if you're using heavy-duty waterproof sealing tapes and double-walled cardboard for small packages that won't see a lot of wear and tear, you can probably save money and make your packaging process more efficient by downgrading to products that meet your needs but are cheaper and easier to work with.
On the flip side, it's also common for businesses to select carton closing materials that aren't quite strong enough. When budget cuts need to be made, packaging is often one of the top items to cut—but in the long run, this leads to serious inefficiencies. Think about the time laborers spend on cleanup and repackaging when a weak carton of parts bursts open on the warehouse floor, or the expense of replacing products not adequately protected by their packaging. Upgrading materials may cost more initially but will result in saving time and money in the future.
2. Upgrade Carton Closing Machines
Taping, stapling by hand, or even using dated sealing machines are all processes that can waste a lot of time—which leaves you paying extra labor hours while extending delivery times to account for inefficiency. Deliver products faster and reduce the amount of labor involved in carton closing by upgrading sealing machines and staplers.
Consider something like the E 24 MEZGER® Stapling Head System or the C 13 MEZGER® Stapling Head System. Both systems allow you to fasten cartons in any position, which eliminates excessive handling to line cartons up. They also allow you to use a variety of staple sizes in a coiled staple system that is easy to use and reload. This will help you automate the sealing process as much as possible with a sturdy fastener made to hold up to the rigors of shipping and warehousing.
3. Be Regular about Cleaning, Maintenance, and Recalibration
One of the biggest timewasters on a packaging line? Equipment that either isn't functioning properly or has broken down completely. These are problems that will happen a lot less often with the right maintenance—but for many businesses, deadlines are a priority that overshadows all else.
Deadlines or not, it's wise to schedule periodic, regular shutdowns so that all packaging equipment can be properly cleaned and maintained, which will help prevent breakdowns. Be sure to regularly recalibrate equipment, too, since misfires or poorly functioning equipment can waste time and materials just as quickly as nonfunctional equipment.
Choose a MEZGER® Stapling Head System for Your Carton Closing Line
There are several MEZGER® Stapling Head Systems available, each designed for different-sized staples and wires. Each of these systems is made with carton closing in mind. They're ideal for preparing cardboard blanks, bottom trays and cover trays, stapling box sleeves, and sealing cartons in various positions.
What's more, these stapling systems are easy to use. You can purchase them in either right-hand or left-hand loading configurations to suit the unique needs of your packaging line. Workers can reload staple coils in less than a minute, which will help you reduce downtime whenever fasteners need to be replaced.
On top of all of that, these systems are easy to mount—and come with their own built-in mounting bracket. That means there's no need to worry about excessive downtime during a retrofit. The process to install these systems should be easy and quick. To find out more, click the button below.