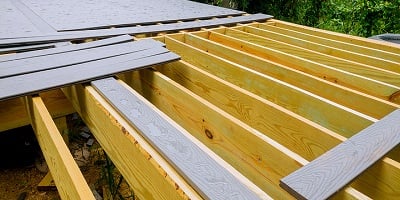 After a cold winter, who wouldn't want to spend warm summer nights enjoying their backyard with a cold drink and good company? As we move into summer, you are bound to see an increase in orders for deck construction and repair. Whether a customer wants to create a space for entertaining friends and family or simply wants a quiet place in their yard to relax, a well-designed deck can easily elevate your customer's backyard landscape.
Choosing a Deck Surface
In 2021, customers have a nearly endless array of options to choose from when designing their deck, and as a construction business owner or project manager, you will be the person they turn to when looking for guidance on how best to maximize their space.
Deck surfaces can come in a variety of options, and the customer's choice will most likely be dictated by the look and feel they want their space to have. Cedar is a great choice for deck building as it is naturally resistant to termites and is less likely to split and warp when compared to other types of wood. It can also be stained to complement the style of the customer's home and backyard. Plus, there is the bonus of wooden decks being relatively easy to repair—if a board gets warped, simply remove the problem board and replace it with a new one.
Another great choice for deck building is to use composite surfaces, such as Fiberon or Azek. Made from a blend of sawdust, woodchips, and plastic, composite boards can easily outlast a regular wood deck if properly maintained. This is a great choice for decks that may get wet frequently, for example - if they are next to a pool or hot tub. Furthermore, environmentally conscious consumers will be pleased to know that many composite decks are made from recycled plastics.
Size and Shape
When helping a customer choose a size and shape for their deck, it's mostly based on what they plan to use their outdoor space for. Will they be using the deck for large group entertaining? Or perhaps they are envisioning a quiet getaway to relax and get some reading or work done while outside? What the customer will use the space for often dictates how large the deck should be, as well as the shape. Of course, other factors such as the size of their yard, building codes, and budget also need to be considered.
Deck building with InvisiDeck®
No matter what the size and scope of your next deck build is, the SCRAIL® InvisiDeck® System, developed by the BECK Group, allows you to construct a deck without any visible fasteners more efficiently than ever before. Rather than driving bulk screws into the top of the deck, SCRAIL® InvisiDeck® Fasteners are installed with the air driven InvisiDeck® Tool in the groove on side of the deck board.
The result is a perfectly installed surface that virtually eliminates unsightly surface irregularities from loose screws or nails, which can also pose a danger to anyone walking on the deck with bare feet. Plus, the speed at which SCRAIL® InvisiDeck® Fasteners can be installed means you save both time and labor costs which can be used to contract more jobs thus improving your bottom line. To learn more, download our deck building guide today.