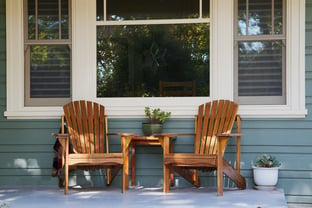 It's difficult to imagine that the holidays are less than a month away. Weren't we just wandering the aisles in annoyingly busy stores looking for the perfect holiday gift a few months ago? Well, the calendar says that was actually a year ago and unless we have the ability to time travel, it's time to face the fact... the holidays are back.
Time to start looking for the perfect gift, or several of them, if you've got a long list. If the thought of sharing your personal space with a bunch of coughing and complaining holiday shoppers makes you want to hide in your tool shed, then we've got just the solution: a handmade wooden furniture gift. Now before you roll your eyes and sigh because you don't think you can do it, read on, it's not as tough as you think.
1) Consider the type of gift you would like to make:
From rocking chairs and garden benches, to swings and stools, there are many different styles and options. Consider the level of difficulty required to make the gift and decide how long it will take. There are many plans online to help you create the perfect gift which offer step by step instructions for those less confident with the process.
2) Consider the material:
What type of wood should you to use to construct your gift? There are several options. Pine is often used but tends to be softer than oak or redwood. The cost of wood is often changing so that's something you will want to check out as well. Consider the use of the item you are making and the weather where it will be used. Some woods hold up better than others when exposed to the elements.
So now you have the plans, you know your material choice, and you should have conducted an inventory of your tools. Now, have you considered which fasteners you're going to buy? Not all fasteners are created equal. When you begin to shop, you'll be faced with a big assortment of fastener options, some of which are not ideal for outdoor furniture. Fastener failure could result in injury if they don't hold up when someone plops down on a chair. The last thing you need to deal with is stripped and snapped screws that aren't strong enough. And no one wants black streaks running down those table legs. Or, rust spots forming near unprotected steel fasteners.

Consider using the Mini-SCRAIL® collated fasteners. They feature most of the same advantages and innovations of all SCRAIL® fasteners, but are especially practical and useful for furniture manufacturing applications. The Mini-SCRAIL® are specifically sized for use in manufacturing all types of furniture, both for outdoor and indoor use. Their smaller size makes them easy to handle and perfect for small projects and areas where space is limited. And they can be utilized anywhere ordinary screws are used.

It is important that screws be set deeply and firmly on anything built with the intention of supporting weight, such as furniture and tables. By using Mini-SCRAIL® fasteners, you increase load capacity, and in the end, create sturdier furniture. The available pan head design of the Mini-SCRAIL® fastener is also a decorative element, which can enhance the overall beauty of the finished furniture. This can be a valuable benefit where appearance is as important as function. These collated fasteners are also available in a countersunk head style.
Regardless if you are going to try your hand at making your own furniture or if you are a seasoned veteran crafting outdoor furniture for others, you can benefit from the Mini-SCRAIL® fasteners.
3) You're not "finished" yet:
Once you have completed the task of building the gift, spend some time investigating finishes before you decide on one. Color generally takes priority when choosing finishes, but there's more to it than that. Be sure to think about durability too. Depending on where your gift will be stored and the climate there, you may need a hard core oil-based finish to protect your hard work. And be sure to give yourself enough time to apply several coats because bare wood is porous and will require many coats for proper protection.
The BECK Fastener Group® has been the leader in the manufacturing of new and innovative construction fasteners for over 100 years. The SCRAIL® family of fasteners offers a product to meet most every construction need including the highly praised fasteners they have created for use in wood furniture.
For more information, download the whitepaper: