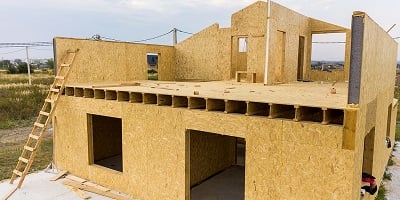 Hanging exterior sheathing is straightforward enough that we rarely make changes to the process. However, there are a few adjustments you may want to consider that will make improvements to the way you hang up sheathing. One such improvement includes choosing the right nailer—and for that, we recommend the FASCO® (a BECK brand) F44AC G-50 TL Stapler. But beyond the tools, there are some other things you can do, so let's examine the subject.
Sheathing Basics
First up, let's cover the basics. Why is sheathing important? It's more than just a surface to hang your siding on. It also offers a layer of protection that fully encloses the home (or other structure). Most of the time, it's made from oriented strand board (OSB) because OSB is an inexpensive material that does the job well.
There are a few other materials that are sometimes used, especially in commercial construction. These include structural fiberboard, plywood, foam board, and gypsum. While it's rare these days—you'll mostly see this in older homes—tongue and groove lumber are also possibilities for sheathing.
Making Sheathing Easier
One of the reasons why it is important to discuss different sheathing materials is that some of them can make your job a lot easier. It boils down to the pros and cons of each material. OSB is popular because for many applications, it has the best balance of good points against the bad points.
And what are the cons to OSB? The two big ones are that it's heavier than some materials, which makes it a little harder to work with and raises safety concerns, particularly where ladders are involved. It also takes moisture damage easily, which may mean that you need to apply a sealant when working with it.
If you're looking for a solution to minimize weight—which will make hauling sheathing products up ladders to enclose taller structures much easier—then foam board is the way to go. While this product doesn't add any structural stability, it is lighter, and it provides an extra layer of insulation, too.
What about moisture concerns? Here, you'll want to go with either plywood, which offers moderate moisture resistance, or a gypsum-based fiber concrete sheathing product designed to withstand moisture—although these can be extremely expensive if you're sheathing a whole home this way. In fact, a better way to approach the moisture problem is to save your fiber cement products for the area's most likely to take water damage, like along the sills or around openings.
The Tool that Makes Sheathing Easier
Tools have a big impact on how easy or difficult it is to install your sheathing. The F44AC G-50 TL Stapler is a powerful stapler designed for the big jobs. This tool is designed with good ergonomics, has a rubber comfort grip to minimize strain while you're working on the big jobs—like a day spent cutting and nailing sheathing, limited recoil, and much more! This stapler uses fasteners ranging between 1 and 2 inches, making it versatile enough to do a wide variety of jobs.