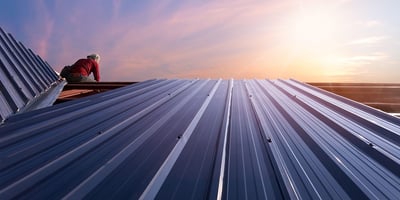 The metal roofing industry was valued at $23.8 billion in 2020 and is projected to grow to $33.5 billion by the year 2030, partly due to metal roofing's rise in popularity on residential structures. Homeowners choose metal roofing for many reasons: it's durable and long-lasting, it has excellent wind and fire resistance, it's easy to maintain, and it's good for the environment.
If you're a contractor working with metal roofing, it's important to use the right fasteners to ensure your work will last. The SCRAIL® RoofLoc® Metal Roofing System, developed by BECK, can be installed twice as fast as collated screws and includes a leakproof EPDM washer for efficient and effective fastening. Each screw is pneumatically driven with the FASCO® (a BECK member) Roofing Installation Tool using our patented SCRAIL® RoofLoc® fasteners. It makes metal roofing fast to install and built to last. But let's explore further why metal roofing in general is a wise choice for housing.
Long Service Life
While typical asphalt shingles—arguably the most popular roofing type in the U.S. —only lasts for approximately 20 or 30 years, most metal roofing lasts between 40 and 70 years. A typical U.S. homeowner only spends about 13 years in their home, which means that anyone who buys a house with a metal roof stands a good chance of never having to replace it. This can be a very attractive feature for a buyer seeking a turnkey property and can drive up the value of the house.
Excellent Wind and Fire Resistance


Most metal roofs are made up of interlocking panels, giving the roof an excellent wind resistance. While asphalt shingles can be ripped off in a strong wind only to be found in the yard days after a storm, metal roofing can withstand strong winds. Metal roofing can be rated to withstand speeds of 120, 140 or even 160 miles per hour.
Metal roofing also boasts excellent fire resistance. In fact, FEMA, the Federal Emergency Management Agency, recommends that homeowners in wildfire-prone areas replace their asphalt roofs with metal to help protect their homes from fire.
Easy Maintenance
Metal roofs have a relatively slippery surface, so debris that falls onto the roof can easily roll off. Likewise, in areas of the country where moss grows on rooftops, metal roofs have a reputation for never experiencing this problem. This means minimal cleaning and maintenance of the roof—an aspect that appeals to busy homeowners.
Attractive, Flexible Appearance
Metal roofing is painted and thus comes in a wide range of colors. This makes it easy to coordinate the color of the roof with the color of the home. Metal roofing can also be molded into many shapes to resemble slate, wood shingles, and other materials. This allows homeowners to have the look of whatever roofing type they desire along with the functionality and durability of metal.
Eco Friendly
Metal is an easily recyclable material, and most metal roofing is at least some percentage recycled. This means that roofing created from metal produces less waste overall than many other types of roofing. While this may not mean much to some homeowners, others who place importance on sustainability practices will find this to be an attractive feature.
Install Trapezoidal Sheet Metal Roofing with the Right Tools
It takes powerful products to ensure a long-lasting metal roof installation. The SCRAIL® RoofLoc® System is exactly what you need to perform quick installation of trapezoidal sheet metal roofs and façades. The patented thread of the SCRAIL® RoofLoc® collated fasteners allows for a holding power of 2,500 Newton (560 lbs.) and more. The result of using BECK products for roof installation is an increase in performance of around 100% and far less fastener failure. You can't go wrong!