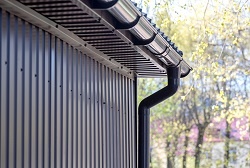 We talk a lot about metal roofing in our blogs. But, metal as a siding material can be a great option too. When? We'll tell you.
When you want a material to last your lifetime.
Metal siding has a life expectancy of 20+ years. The paint lasts 25-30 years too. It is resistant to rot, water, fire, and insect damage. If you live in an area prone to hail or wildfires, metal siding and roofing can provide protection that other materials can't. You may even get insurance discounts as a result. While there are both aluminum and steel options available, steel will be longer lasting and more resistant over time.
Unlike other products that are laid in layers, metal siding is laid in sheets, leaving minimal areas for water to infiltrate. When properly installed, and when edges are adequately sealed, there will be no way for water to make its way into and under the siding.
When you don't want to spend time on maintenance.
Metal siding requires almost no maintenance if installed properly. Snow, sleet, frost, rain, wind and even heat have very little effect upon it. Metal does not absorb moisture or promote the growth of mold or fungus, both of which can destroy a home's framing and can pose health hazards to the occupants. We know you'll never have to paint it to freshen it up, so how do you clean metal-clad siding if it starts to look dingy? A light power washing will return your siding to a brand-new look.
When you want an eco-friendly material.
Metal siding is eco-efficient in several ways. First, it's made of pre- and post-consumer recycled materials. It can be recycled after removal as well, unlike all the others that end up in landfills. If you live in a warmer climate, you can buy metal siding with a reflective coat to reduce the impact of the sun's heat. Those in cooler climates can choose darker colors that will absorb the sun's rays. It can also create extra-strong insulation as long as it is installed with the right barriers underneath. This can save you in energy waste and reduce your utility expenses.
When you want a siding that looks like wood but lasts like metal.
Maybe you love the look of wood shingles or siding, but don't want the maintenance and upkeep that goes with it. Metal siding comes in a variety of patterns made to mimic traditional materials. It also comes in a wide range of pre-painted colors and finishes.
When you want a material that's easy to install.
Metal siding is simple to install, especially with the right equipment, like the SCRAIL® ROOFLOC® METAL ROOFING SYSTEM from BECK America. This system uses SCRAIL® FASTENERS that are two times faster than collated screws and eight times faster than bulk screws. If you'd like to see the system used on a metal siding project, view this video.