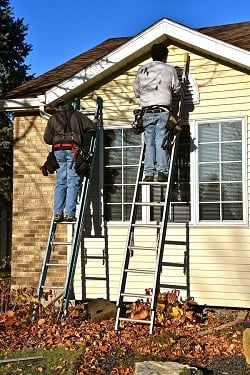 When working on a remodel or building a new home, the siding is an important consideration. It not only protects the home's structure and provides insulation, but it defines the look of the building. Vinyl and wood are two traditional choices, but time and again, metal siding wins the popularity award. It really is one of the most commonly-used materials, and for good reason.
The Adoption of Metal Siding
Over the decades, the popularity of metal siding has grown, especially with aluminum, mostly due to the constant improvements to its look and quality while remaining affordable. But there are more features to consider when it comes to metal siding. Durability and low-maintenance are definitely two top selling points. But that's not all: It is also fire resistant, recyclable, unfriendly to insects, and does not absorb moisture.
On the flip side, it has some drawbacks too: it can dent, be difficult to replace, and is costly to manufacture and ship. Also matching the color of the replacement pieces can be difficult, particularly if the manufacturer stops producing a specific color. Installation used to be a negative as it required a professional, but innovations in installation systems, like the SCRAIL® RoofLoc® Metal Roofing System from BECK America, make putting up metal siding a breeze. While the negatives are important to keep in mind, the positives generally outweigh them, especially with simple maintenance and upkeep.
Types of Metal Siding
Metal siding comes in four types: Aluminum, Steel, Copper and Zinc. Copper and Zinc are cost prohibitive for most, so we'll only discuss the care for Aluminum and Steel as they're quite common. It's important to understand the differences between these two and how to properly care for them.
Aluminum
Available in a variety of colors and textures, Aluminum arrives as extruded panels. It's very similar to Vinyl in terms of dimensions and styles, but it has pros and cons. The pros are that it's lightweight, fireproof, insect resistant, and strong (it won't rust, blister, or rot). It's also easy to handle and install. Cons include that it can scratch or dent easily and can corrode without proper care. But greater thickness means better wind resistance, increased insulation, and fewer chances of denting so consider the lifetime of your siding when choosing your thickness.
The maintenance for Aluminum siding is straightforward. Simply hose it down once a year, clean surface stains with a non-abrasive detergent, and every 5-10 years refinish with manufacturer recommended paint. If it's cared for properly in this manner, Aluminum siding can last up to 40 years.
Steel
Similar to Aluminum, Steel siding is also fire resistant and unfriendly to bugs. The panels come in the same types and sizes as Vinyl and Aluminum, plus can have the look of wood grain due to the fact the material has a baked-on, guaranteed finish. In addition, Steel is heavier, stronger, and more resistant to denting than Aluminum. But if we're considering the negatives, Steel can be easily scratched and rust, which can be avoided more easily with Aluminum. It is also more difficult to paint and install than Aluminum (it is highly recommended that Steel be professionally installed).
The maintenance for Steel Siding is as easy as Aluminum, but with one significant difference. Power washing it annually is the best way to keep it clean. The key to longevity with Steel is if scratches do appear, you must prime and paint over them quickly before rust appears. If well maintained, this siding can last 40+ years as well.
After looking at the whole picture, metal siding really does have many upsides. For a quick and simple installation of metal siding, consider The SCRAIL® RoofLoc® Metal Roofing System. It makes installation more efficient and faster than ever. The collated SCRAIL® strips eliminate fastener waste, and has a holding power exceeding 560 lbs. With user-friendly features like full sequential trigger actuation and an easy re-loading magazine, your long-lasting metal siding will be up in no time and with simple annual maintenance it will last a lifetime. Watch the video by clicking the link below.