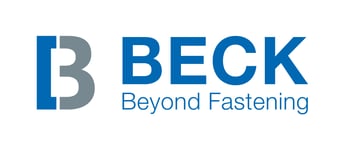 September 16th, 2019: The inventors of the first collated nail made of wood strengthen their brand identity with a new logo and a modern brand appearance
BECK has changed. From the first collated staple, to the invention of SCRAIL®, the nail and screw combination fastener, or LIGNOLOC®, the first collated nail made of wood – the company from Austria is now more courageous, forward-thinking, visionary, technological and innovative than ever. From now on, this will also be visible to the public through a new umbrella brand and brand design.
"Our business has undergone a significant transformation in the past few years. Against the backdrop of digitization and the dynamics of continuously changing markets and customer expectations, we recognized that our company needed to modernize its brand strategy in order to remain up to date", announces Christian Beck, General Manager and CEO of BECK, the launch of the new Corporate Brand Identity on September 16th, 2019.
Umbrella brand name is changed
The umbrella brand name is changed from BECK Fastener Group to BECK.
Modern logo and visual design system
The most visible change is the new logo and visual design system that reflects a modern look and offers a visually consistent and integrative umbrella for all product brands. The logo displays a bold B that stands for BECK and BEYOND. The B arises out of a staple, pointing out the heritage of the brand as well as to their broad offering way beyond staples.
Brand promise becomes new brand claim
"Beyond Fastening" is the new brand claim, highlighting the company's capability to always create solutions beyond the usual. To strengthen and reinforce the company's messaging, BECK added the claim as a tagline to its logo.
Streamlined brand architecture
As part of the new brand identity, BECK also decided to streamline the brand architecture. They reduced the number of brands and established a consistent brand family with a clear new brand structure (as seen in the below graphic). In this context, FASCO America was renamed BECK America. BECK America now clearly appears as a BECK company that not only sells FASCO tools but also the whole BECK product brand range.
Through an exhaustive 20-month effort the new BECK brand was born. During this process, the company was encouraged to represent its competencies clearly, to simplify communication and to improve the customer experience.
"The main idea behind all these steps: to pull all of our strengths and to appeal to the customer by simplifying the way we approach the market. We're proud of the work that we do here at BECK and we are looking forward to further strengthening and expanding the cooperation with our business partners through our brand", Christian Beck gives an exciting outlook on the upcoming months for the company.
The task in the upcoming months will be to migrate everything according to the new brand. Changing a brand identity is a process that can involve many steps and take some time, so the transition will take place gradually over a period of one year.
If you want to learn more about the re-branding initiative of BECK, please visit the new Online-FAQ-section at: rebranding.beck-fastening.com starting from September 16th. If you have any further questions, please do not hesitate to reach out to our corporate marketing department at rebranding@beck-fastening.com.
Contact information:

BECK America
Brett McCutcheon
General Manager
105 Industrial Park Drive
Muscle Shoals, AL 35661
Phone: (256) 381-6364
Toll Free: (800) 239-8665
Email: Info@beck-america.com
Website: www.beck-america.com

Picture 1: Christian Beck, CEO & General Manager, BECK (Source: BECK)

Picture 2: New BECK logo (Source: BECK)

Picture 3: Graphic of new BECK brand architecture (Source: BECK)
About BECK:
BECK is a family company founded in 1904. For more than 110 years, BECK is one of the world's leading manufacturers of innovative fastening solutions. Whether it be developments in response to customer requirements or to keep ahead of the market – innovation is the driving force behind BECK. The company's in-house R&D team searches tirelessly for new solutions to provide BECK customers with greater user comfort and cost-effectiveness. BECK is now a globally active, family-owned company with sites in Austria, Germany, Italy, Poland and the USA.