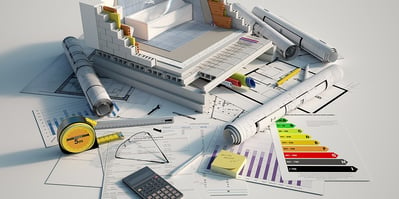 Quality subfloor installation is crucial to the overall stability and appearance of your finished projects. What you may not know is that a lot goes into the flooring assembly to create a stable subfloor. Most flooring systems start with a well-designed joist structure, sometimes followed by installation, then the subfloor itself, and last of all, an underlayment if necessary.
In this article, we're going to examine why it's important to make sure the subfloor layer is done properly—and we're also going to take a look at the SCRAIL® SubLoc® PRO System from BECK, which is the ideal system for installing a strong, stable subfloor.
Subflooring: The Foun

dation of a

Flooring System
One of the primary reasons why builders take such care to install subfloors properly is because it provides a level, stable base for flooring materials. Floors that have some flex to them, for example, are unsuitable for things like ceramic tile since the flex will lead the tiles to crack.
Properly installed subfloors also help to reduce sound transmission, add insulation, and maintain structural integrity. Paying attention to the details in this area is an investment that pays real dividends down the road, preventing callbacks from customers who are unhappy with shifting, noisy floors.
Poorly Installed Subfloors are Noisy
If you've ever walked across a floor that squeaks and creaks as you step, the problem is often that the subfloor wasn't installed properly. Those noises are indicative of a floor that has too much flex—which will run into problems with solid surface flooring such as tile, as mentioned above. Aside from trouble with tile and other solid surface flooring, noisy subfloors can also be annoying. Few homeowners enjoy the sound of a groaning floor as they go about their day.
One way to prevent shifting, noisy subfloors is to use the right fasteners. With the SCRAIL® SubLoc® PRO System, for example, you can choose between a wire coil or plastic strip system at 20-degree and 33-degree angles depending on your tool preference and needs. The aggressive thread design combined with BECK's patented Diamond Coating is a perfect combination for squeak free subfloors. Add a powerful FASCO® (a BECK member) tool and you are set up for success!
Quality Subflooring Fasteners
When you look at how flooring systems are designed, you'll see that often, the quality of the build comes down to the fasteners used. So long as the joists beneath a subfloor are stable, and the subflooring panels are properly cut to fit, the fasteners are the only other piece of the puzzle that can cause real problems
That's why it's important to choose a system like SCRAIL® SubLoc® PRO. Not only does this system give you the advantage of a pneumatic tool for fast and easy fastener installation, but you'll also enjoy the advantages that come with a better fastener.
All too often, subfloors installed with nails end up loosening with time as the nails pull free. SCRAIL® nail screw fasteners are threaded, which means they hold subflooring tight to the joists without loosening. They're also resistant to moisture damage, rust, and other issues that can weaken or loosen screws and other types of fasteners.
What's more, the SCRAIL® SubLoc® Pro System gives you plenty of options in the way of tools, which means you can choose based on your preferences. If you prefer a tool that lets you load a larger number of fasteners at once, try the SCRAIL® SubLoc® PRO Wire Coil System. There are also two plastic strip systems available in different angles—20 degrees and 33 degrees—which makes it easy for you to choose a tool that helps you install fasteners faster, even in tight corners or in other awkward spots.
Ready to learn more? Click below to look at everything the SCRAIL® SubLoc® PRO System has to offer.