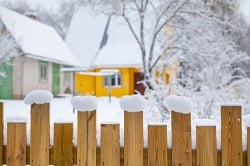 Winter is clearly the time to move your work indoors, right? Not necessarily! If you're building structures that live outdoors, like fences, there's no wrong time (as long as it's not overly rainy or snowy). We're not proposing you try to dig post holes while the ground is solid ice. There are plenty of winter weeks with mild temps. Here are five compelling reasons it's a great idea to do fence work in winter.
Labor is Readily Available. In northern areas, outdoor construction takes a nose dive in winter months. This means plenty of laborers with extra time that are looking to make money. If you're in construction, you're likely to have more time on your hands as well. Now you not only have people to do the job, but you can likely get enough of a team together to get the job done in less time. Less time on site means more open time for other work as well.
Work is Less Disruptive. In the winter months, people are simply outside less. This means you're not working around people and animals. You are less disruptive to the occupants, and they are less disruptive to you.
Shorter Wait Times to Clear Yellow Tape. Permits can take some time to obtain. Just like you, most people build in the warmer months, so that's when permit offices get backed up with requests. The process moves much faster in the colder months when demand is lower.
Less likely to Damage Landscaping. Winter months mean plants are dormant and less easily damaged. You can trim back shrubs or trees that may be in your fence line with the reduced likelihood of damage. The grass being dormant will reduce potential damage of your equipment driving over it as well.
Materials Get a Stronger Start. Pressure-treated wood has a 50% moisture content when you first use it. Since the winter months are less humid, the wood will stabilize easier and dry more consistently and evenly. This is in opposition to all the expansion and contraction you get when the summer sun heats up and cools quickly, which can cause cracking and warping.
While winter may seem an unlikely time to build outdoors, there's a strong case as to why it may be an ideal time. No matter when you do your fence work, do it with quality materials, fasteners, and tools, like those offered by BECK. Constructing or repairing a fence using high-quality materials, such as the BECK Fence Stapling System, which includes a combination of F46 40-315 fence stapler and F40-315 & F40-315B (barbed) fasteners, gives superior holding power and corrosion protection for wire to wood applications, will ensure your fence lasts.