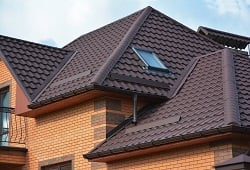 When clients hire a contractor they expect them to be well versed in their skill and industry trends. To ensure that clients are satisfied with your work, and better yet, recommend your services to their peers, you must constantly be offering upgrades to meet their ever-changing expectations. Here are 5 roofing upgrades you need to be offering your clients.
Solar Roofing – As customers become more eco-aware and cost-conscious, the market continues to generate options for generating your own power. Solar energy has existed on the fringes for years, but the panels and shingles that act as solar cells are bulky and tend to interfere with the exterior look of a home. This year, we will see the new solar roof shingles installed for consumers by the the end of 2017. This radical new technology collects solar power, but the shingles themselves are made of textured glass that can look like a traditional, metal, or tile roof. Once the early adopters work out the kinks, these will be in high demand, as they cost less to make than asphalt, cost less to ship at 1/5 the weight, and pay you back in energy savings. Any roofing provider that wants to get in on the action needs to be paying close attention to this development.


Metal Roofing – While this roofing technique has been around for the last century, in recent years it's been gaining more popularity among consumers. This roofing material is eco-friendly, durable, and long-lasting which caters to the needs of the eco-conscious homeowner.


Add Color and Texture – Metal roofs come with the added benefit of a variety of colors and textures that you can offer to clients as an upgrade. Hipster homeowners today are looking for new and unique ways to make their home stand out from the rest and adding color and texture is the perfect way to make your clients happy.


Roofing Tiles – Homeowners in 2017 are attracted to the style of terracotta roofing and roofing tiles have become a hot trend because of it. As an additional benefit, roofing tiles are tough and can resist severe weather like high winds and hail. In comparison to asphalt, they may cost 2-3 times more, but they last 2-3 times longer (20-25 years vs. 7-15 for asphalt). That means you would need only one roof installation, where a neighbor with asphalt may need three in the same time period!


Pneumatic Installation – To save your client time and money use pneumatic tools to complete projects 8 times faster. A pneumatic driver paired with RoofLoc SCRAIL®, a combination fastener, helps you get a lasting finished project with precision and productivity.
The roofing business will always exist because people will always need a roof over their heads. What customers want out of those roofs, in addition to simple shelter, will change over time. The trend right now is eco-conscious, cost-saving, and long-lasting. However, high-quality workmanship is timeless. Using FASCO America® fasteners and pneumatic tools for installation ensures you can meet all of your clients' expectations.