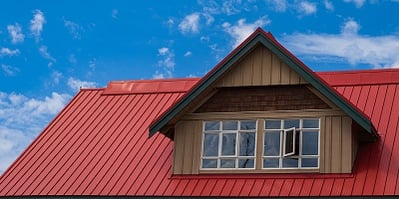 Years ago, metal roofs were primarily found on structures like garages, sheds, and agricultural buildings. Today, metal roofing systems are so popular that they're found on homes and businesses in nearly all climates and regions of the country. The benefits of a metal roof installation are innumerable, especially when installed with BECK's SCRAIL® ROOFLOC® Metal Roofing System. This system was specifically designed for metal roofing applications and makes installation fast and efficient.
Whether you're a commercial or residential contractor, knowing the following benefits of metal roofing can help you answer client questions when they're asking about the best roofing material for their home or business.
1. Energy Efficiency
In warm weather areas and seasons, a metal roof can reduce cooling costs by as much as 25%, while simultaneously reducing the burden on the HVAC system. How? Metal roofs can be painted in nearly any color and with a variety of paint types, including reflective pigments that reduce heat gain indoors. These pigments can be used to reflect energy back into the atmosphere, and that helps control the temperature in the upper floors of the structure.
2. Long Service Life
Whereas asphalt shingle roofing lasts 20 to 30 years, and typical commercial roofing may last a maximum of about 30 years, metal roofing can last 50 or 60 years if well-maintained and properly installed. That long service life means less money spent over a long period of time, fewer repairs, fewer roofing replacements, and less time spent on maintenance.
3. Highly Durable
Metal doesn't degrade quite like other materials. Whereas asphalt shingles will eventually lose granules and begin to crack or curl, metal maintains its structural integrity for a long time.
The same can be said of various commercial roofing systems, which eventually break down due to exposure to UV rays and temperature extremes. These roofing systems simply don't compare to metal, which can withstand exposure to heat and cold year in and year out.
4. Flexible Application on Low Pitched Roofs
Metal is one of those unusual roofing materials that can be installed on roofs of nearly all pitches, including low-pitch roofs. This makes metal an appropriate consideration for many building types and shapes.
5. Lightweight
Metal is relatively lightweight, which brings many benefits. Its weight means that it's easy to work with. No special supporting structure or reinforcement is required to hold a metal roof, and installation happens relatively quickly because the materials are so easy to manipulate.
6. Environmentally Friendly
Most metal roofing is made from recycled materials, and when the material is no longer needed, it can be recycled again. This, combined with the energy efficiency described above, makes metal an environmentally friendly product. Metal is a desirable material for consumers that prioritize environmentally friendly products.
Roofing is Only as Good as the Tools Used to Install
You can't sell your clients on the value of metal roofing unless you perform quality installations. Good installation starts with quality materials and tools, like the SCRAIL® ROOFLOC® Metal Roofing System. It was created specifically for the installation of trapezoidal sheet metal like the type used for roofing and siding. The system efficiently installs SCRAIL® ROOFLOC® fasteners that are designed to outperform other fasteners, even after years of exposure to UV rays and extreme weather conditions. With corrosion resistance and resistance to extreme cold and heat, they provide lasting value for your roof installations. The ROOFLOC® fasteners are pneumatically driven in, but then can be unscrewed when repairs are needed. It's the ideal system to metal roofing! Click below to learn more!