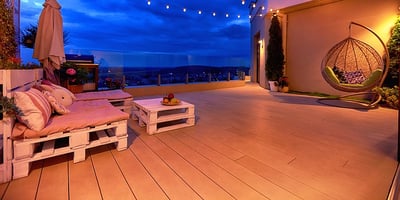 Rooftop decks are becoming increasingly popular all over the United States, especially in areas where space is at a premium, like Washington D.C. or Boston. In fact, space is what makes rooftop decks so popular. Your clients want outdoor spaces, and when they don't have room for a backyard deck, they start looking at alternatives—like the roof, if there happens to be a flat space that is large enough to turn into a functional outdoor living space.
Since this is a job that you'll be hearing about more and more, we're going to show you a few helpful dos and don'ts for rooftop deck construction. We'd also like to highlight the SCRAIL® InvisiDeck® System, which gives you the power to install a seamless deck without visible fasteners and in a fifth of the time compared to traditional screws.
1. Start with Local Codes
Every area is different—and many will have different regulations governing rooftop decks. Start by finding out whether rooftop decks are allowed in the area. Most places will allow them, though depending on the locality, they may have different rules in place for determining whether a building is eligible for a rooftop deck. Be sure to also find out:
Size and weight limits—if any
How many access points are required
Permissible materials and fasteners
What types of railings and safety features are required
2. Consult with a Structural Engineer Next
Once you know the local rules and regulations, it's time to look at things from the standpoint of the individual building. Just because rooftop decks are legally allowed by code doesn't always mean they're a good idea for a particular building. Work with a structural engineer to determine how much weight the existing roof can handle in addition to its current weight. To ensure safety, you'll need to make sure that the finished deck comes in well below this number, otherwise the deck, and possibly the structure itself, could be at serious risk for collapse.
3. Choose Materials Wisely
You've verified that the deck is allowed by code, and you've worked with a structural engineer to create a safe design. You should also think carefully about the materials that you choose. During the design phase, of course, you'll be working to keep the weight down—and that will play a big role in the materials that you choose. But two other factors—heat, and sunlight—should also play a role.
The simple truth is rooftops get hot. They're exposed to the sun all day, every day, and because of that, even if part of the deck design includes a structure for shade, you should still choose decking materials with comfort in mind. Avoid black or overly dark colors since these will absorb enough heat to make the deck unpleasantly hot during the summer. On the flip side of that, be sure to also avoid white or overly light colors since these reflect sunlight. They'll be cooler—but bright shades can also be blinding on sunny days. Neutrals are your friend here.
Reflective sunlight won't be the only concern. Consider the fact that rooftops experience elevated UV exposure compared to other parts of the home, and that can make certain materials brittle. Avoid plastics and PVC, which will bleach and become brittle rather quickly on a rooftop deck.
Create a High-End Experience with the SCRAIL® InvisiDeck® System
Part of the allure of a rooftop deck—aside from making use of available space—is the appeal that comes with this type of outdoor living space. Rooftop decks usually come with great bird's-eye-views, which makes it easy to create an upscale, luxurious atmosphere.
With the SCRAIL® InvisiDeck® System, you can build on that atmosphere. Choose a beautiful species of lumber or another type of attractive decking board, and use the InvisiDeck® I-CLP clip fasteners to create a completely seamless look.
These fasteners are easy to install—which means you can install them up to five times faster than traditional fasteners—and they won't damage the deck's surface. You can use them with grooved planks, or if you choose a hardwood or composite deck material that doesn't feature a groove, you can use these fasteners with a groove cutter.
Want to learn more about the SCRAIL® InvisiDeck® System? Click below to download a brochure that outlines all the features and benefits.