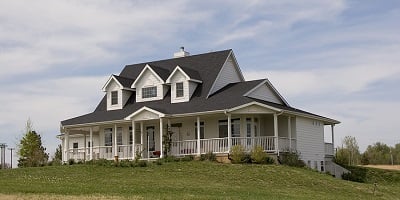 Prior to the outbreak of the COVID-19 pandemic there was a slight increase in the amount of new residential construction activity in low density markets. Many urban dwellers seemed to be interested in building new homes in rural areas and smaller-city suburbs to enjoy the lower cost of living and solitude. The COVID-19 pandemic, however, has fueled the fire. According to the latest Home Building Geography Index (HBGI) published by the National Association of Home Builders, homeowners are flocking to low density areas to increase the distance between themselves and their neighbors.
Goodbye City Life
This is good news for the home construction industry, which suffered when housing demand took a hit mid-year with the weakened economy. The coronavirus has educated many on the perils of high-density lifestyles in a public health crisis. The simple truth is that large cities can become a breeding place for viruses like COVID-19 that spread via crowded living conditions and areas with close physical contact, such as mass transit and huge city centers. While city life has always been portrayed as glamorous and desirable in film and television, the pandemic is leading city planners to conclude that there is something to be said for less populated locations and quieter lifestyles.
Spreading Out
Home construction companies watching the housing trends will be smart to shift their focus away from high-density markets and into the low-density markets where business is booming. The HGBI quarterly index, used to measure building conditions and gauge housing construction growth in markets across the country, reported that small metro suburbs were the fastest growing geographic areas for single family home construction in the second quarter of 2020. As the pandemic continues to take hold across the country, the increase for these lower density areas is expected to continue.
Working from Home
The viability of the newly popular telecommuting work option is also driving the trend of leaving big city living. As companies have experienced many positive benefits of a mobile and off-site work force, employees no longer need to live close to the metro areas where they work. As employees enjoy the prestige of working for a company with their headquarters in a large city while they are safe in their rural home, the market share for residential housing construction in less populated areas will continue to rise.
Good News for Home Builders
So, what does this mean for home builders? It means you need to be ready for a burst of jobs in low density areas. While work may have slowed earlier in 2020, jobs and builds are starting to increase for suburban and rural construction teams. You will need to make sure you are equipped with the right tools to withstand the challenge of continual use.

Tool Up
One great tool to have is the FASCO® (a member of the BECK Group) Jumbo Nailer. The FASCO® F91AC Jumbo Nailer is highly effective on applications such as heavy-duty framing, engineered lumber, exterior decks, and much more. The nailer features a rubber comfort grip and a second handle that ensures non-slip handling with reduced vibration and fatigue. Plus, you can shoot 4'' to 6 3/8" strip nails with only 120 psi, and the cartridge can hold up to 50 nails at a time so builders can increase their efficiency. With a balanced recoil, the Jumbo Nailer is easy to use and is known for its strength and consistency.