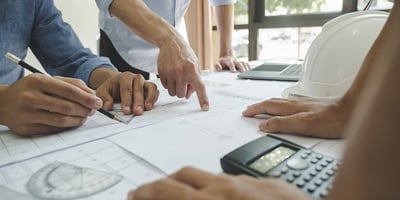 Anyone in the construction industry understands the importance of choosing the right underlayment—the unsung hero that bridges the gap between a flawless floor covering and a rock-solid subfloor. With a myriad of options at your disposal, ranging from trusty cork and sturdy felt to resilient foam and robust rubber, your expertise comes into play.
But that's not all. When moisture threatens to disrupt your plans, an additional moisture barrier becomes your shield. Your mission, should you choose to accept it, is to analyze budgets, consider flooring materials, and navigate the intricacies of each project.
One thing is for certain: when you're installing flooring in your client's home, it's important to use the right tools for a successful project. BECK's SCRAIL® SubLoc® PRO allows for fast installation of flooring materials and creates squeak-free subfloors. In fact, because of its special thread, the SCRAIL® SubLoc® PRO prevents squeaking years after installation. It can help you construct impeccable floors, but you should take these additional considerations into account.
What to Consider When Selecting Underlayment
1. Soundproofing
In some parts of the house, loud footfalls can be inconvenient and even distressing. In places where it's important to minimize noise, acoustical flooring underlay can reduce echoing and dull the hollow noise associated with foot traffic.
2. Thickness
Underlay comes in thicknesses between 1/8 to 1/2 of an inch thick. Thicker underlay provides more cushion and can help smooth out an uneven subfloor. Note that thicker underlayment is only appropriate with certain flooring materials. Be sure you know the standard for the material being installed.
3. Affordability
Quality and price are often directly correlated. Your client's budget will play a big role in the quality of the underlayment that you select. For budget-minded clients who gravitate toward lower-quality materials, find ways to talk about how low quality is associated with poor performance over time. Steer clients toward products that save money due to their longer service life. Your material supplier can help you identify quality products that last.
4. Moisture Resistance
In areas where moisture can be a problem (basement floors, for example), it's important to install underlayment that has high moisture resistance. In some cases, a separate moisture barrier may be necessary to keep the floor safe from moisture. Know the moisture content of the subfloor and act accordingly.
5. Flooring Material
Different types of flooring material can be paired with different types of underlay. For example, laminate flooring material needs a rigid underlayment like plywood, whereas hardwood flooring needs a soft underlayment like cork or felt.
Quality Tools and Materials Matter
One of the ways that flooring material can fail over time is through the development of squeaks and creaks. This happens primarily because fasteners that hold the flooring in place can loosen when walked upon. The solution? SCRAIL® SubLoc® PRO is designed to prevent this from happening. These nail screw fasteners have special threads that prevent micromovements in the wood, so your floors will stay as quiet as they were the day they were installed. In fact, it has 40% more holding power due to BECK's special, patented Diamond Coating on these nail screw fasteners.
This award-winning system consists of 3 different system options, so you can find the tool that best fits your needs: The SCRAIL® SubLoc® PRO Wire Coil System, the SCRAIL® SubLoc® PRO 33 Plastic Strip System, and the SCRAIL® SubLoc® PRO 20 Plastic Strip System. Learn more about these systems for yourself by clicking below!