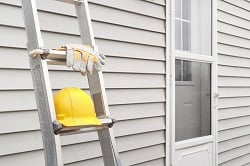 When selecting siding for your next home build, there are multiple factors to consider with your client: cost, aesthetics, ease of installation, durability, water resistance, and energy efficiency. To make things even more difficult, there are also a variety of types of siding to choose from. To simplify the decision process, let's break down the six most popular types of siding to help you identify the right choice for your client's needs.
1. Stone Siding
For a natural, decorative appearance, stone is the way to go. It's durable and resistant to the elements. However, if the homeowner wants natural stone, it is very costly—not just because of the material, but in installation as well. Stone-veneer is a less-expensive option since it's more lightweight, but it's a little less upscale looking since it is a manufactured material.
2. Brick Siding
Brick is the most timeless and traditional of all the siding options. There are many color and size options to choose from, plus it's low-maintenance (you don't have to refinish or repaint it) and is durable (both weather-resistant and strong). But of course, there's a downside—installing brick is labor-intensive due to its weight, therefore raising costs. There are brick-veneer options, but they aren't as durable due to being a thin material.
3. Wood Siding
Wood is one of the more popular choices, though complicated because of all the categories within it to choose from. First, there's wood or engineered wood, then there's clapboard, shingle, and shakes. Real wood requires maintenance, needing to be painted or stained every 2-5 years. It's more susceptible to rodents and insects and can be costly. But on the positive side, it has a classic look and will outlast other manufactured materials. If the homeowner decides to go the engineered-wood route, they'll be happy with the cost savings and the little maintenance required, but they need to choose wisely as engineered can't be stained or painted.
4. Fiber-Cement Siding
This is a great choice for homeowners who want the look of wood, stucco or masonry, but not the hassle. It's durable, strong, cheaper, and requires little upkeep. It comes in a variety of designs and colors, plus it's resistant to water, fire and insects. But the major con is its weight, and because of that, labor costs go up.
5. Vinyl Siding
Vinyl is a tricky option. It is very appealing to homeowners because it's strong, low-maintenance, inexpensive, and easy to install. However, it doesn't last, and its quality is poor. After a few years, it will begin to split, crack, and look dull, plus it can be easily damaged by the elements and is not energy efficient.
6. Metal Siding
Though it was originally primarily used in business structures, metal siding is growing in popularity, mostly because it's so durable and strong. It's also resistant to the elements, fire, insects, rodents and rot, plus it's energy efficient. Installation used to be a negative as it required a professional, but innovations in installation systems, like the SCRAIL® RoofLoc® Metal Roofing System from BECK, make putting up metal siding a breeze. This system uses SCRAIL® fasteners that are two times faster than collated screws and eight times faster than bulk screws. Download our brochure below to learn more.