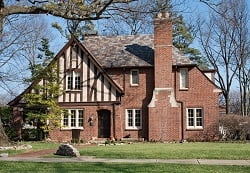 Tudor homes have a very clear English style. They are characterized by a combination look of brick and half-timbering filled in with stucco, elaborate masonry chimneys, asymmetric design, and steeply pitched gable roofs. This unique look and craftsmanship may be what makes it easily recognizable, but its use of strong, long-lasting materials is another reason why this architecture is here to stay.
One of those strong materials, that is growing in popularity, is its slate roof. Even with all the advances in construction today, slate roofs are still the longest lasting and most easily cared for roofs available. Because of this, home builders are looking more and more to slate when selecting their roofing materials. Here are some reasons why it's worth considering.
Beautiful, Varied Design
Slate comes in numerous colors, patterns and styles. The options are endless! It can range in texture from smooth and uniform to rough and rustic. Colors vary too, from commonly-used roof colors of greys and blacks, to more vibrant colors such as greens and reds. This beautiful stone material truly adds charm to any design and certainly makes for a more fun and colorful design project.
Long Lasting
People prefer slate because it only has to be installed once, while asphalt shingle roofing needs to be regularly replaced. Slate roofs are so strong, durable and reliable because they're essentially made of rock. They require little to no maintenance and, if properly installed, can last 150 years or more. Often, slate roofs outlive the structures. To ensure an even longer life, do not put sealant or paint on slate roofing because they can cause premature aging.
Additional Strengths
Other plus-factors for a slate roof include its resistance to fire, mold and frost, and it's environmentally friendly. It also doesn't absorb moisture, is difficult to break and provides great insulation.
Simple Repairs

As long as you have a licensed roofing contractor who is familiar with slate roofing, repairs are easy. Just slide out the damaged piece and replace it with a new one, unlike shingles where often a whole area has to be replaced. Just make sure if anyone walks on it to make repairs, they are careful. Damage from weight can be done quickly without caution.
Planning Considerations
Before moving ahead with a slate roof, there are a few things to keep in mind:
Because it's made of rock, slate roofing is a very heavy material so you need to make sure the structure can support it. When selecting the roof decking, look at solid lumber at least ¾ of an inch thick, or other materials shown to be able to last over 100 years, like gypsum or nailable concrete.
Slate is also a more expensive product, but when you consider its lifetime versus asphalt, they cancel each other out. Just make sure it fits your budget.
Because of the weight, slate roofs take time to install. Plan your construction time appropriately.
To help speed things up and save on labor costs, the BECK Group has created a Slate Roof System to help install slate roof tiles in less time, while maintaining universal depth and spacing. The collated hooks meet or exceed the European standards for slate roofing materials, including ensuring proper geometric form and the ratio of wire diameter to length. This System makes installing a slate roof an even more appealing option.