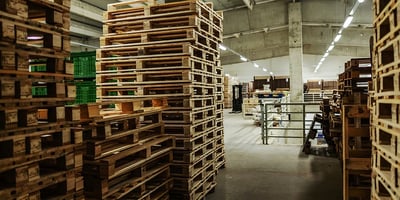 Pallets are one of the most important and perhaps under-appreciated fixtures in warehouses, loading docks, and stockrooms around the country. Without pallets, the global manufacturing, transportation, and logistics system that delivers goods around the world would function very differently. Pallets truly are a critical component of the system that allows us to ship products around the globe.
It's important when shipping and transporting goods across city, state, or international borders that the pallets used are of sturdy construction. Pallets aren't made to be beautiful, but they must be durable, strong, and well-constructed to function. The Mezger® Stapling Head Systems are the perfect tool for constructing strong pallets. These pneumatic nailing and stapling systems allow for the easy, fast construction of wooden structures. If you're a pallet manufacturer, here's what to know about making strong pallets with durable materials.
Pallet Problems
Pallets often face several problems that can be addressed through good manufacturing practices. These problems include:
Soft, weak lumber (it leads to poor structural integrity).

Rotten areas in the wood (often due to poor storage with moist conditions).
In the face of these problems, how can your company create stronger, better pallets for your customers?
Solutions to Pallet Problems
1) Choose Lumber Carefully
Low-grade lumber is considered "low grade" because it warps and has holes and other cosmetic and material defects. While some of these problems can get in the way of creating a functional, durable pallet, some of these problems are surface level. Inspecting lumber in advance and weeding out the boards that are too weak to support heavy loads can stop the problems before they start.
2) Inspect Each Pallet Before Shipping
Once the pallet is constructed, inspect it before sending it out into the world. Look for:
Exposed nail heads.

Exposed nail heads are a problem for many reasons. They can be a safety hazard, as well as provide improper structural support. Eliminate exposed nail heads by re-inserting them into the pallet.

Weak spots.

Look for stains, discolorations, and splintering that could be indicative of weak wood. Test the pallet to ensure strength and structural integrity.
3) Use the Right Tools for Construction
Using the right tools for your pallet construction can help ensure a long-lasting product that can withstand the kind of wear and tear that pallets experience on long trips around the world.
Mezger® Stapling Head Systems is what you need. They have an automatic feed and are available in right-hand and left-hand load variations, so they're easy to use and efficient for everyone. These systems can be used for nailing and stapling, including 36 mm staples, 13 mm staples, and sizes in between.
This means you can use these tools for more than just pallet construction, but also carton assembly and closure, and more! The Mezger® Stapling Head System is an essential tool for creating secure packaging and shipping products long distances. Click below to learn more about these amazing systems!