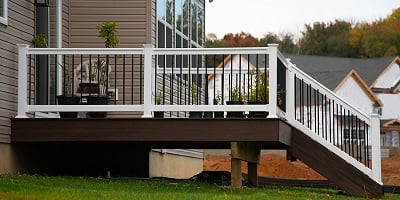 As the weather starts to warm, and the light at the end of the coronavirus tunnel begins to grow brighter, we're all eager to reconnect with our friends and families to do the things we love. For many of us, that means barbeques, pool parties, and late nights outdoors enjoying warm weather and good company.
Whether you're a construction professional or a homeowner looking for a new project, you know that warm weather means it's time to get back to outdoor projects. We can't think of a better way to kick off the spring season than with a well-designed deck that can add value to a home and create a transition between indoor and outdoor living?
Let's look at some ways composite decking can help you or your customers enjoy the warm weather in style!
Raised Decks
A raised deck can add an interesting design element that complements your home while also maximizing the amount of space available in your backyard. Not only do raised decks offer great views of the surrounding area, but they also provide ample room for storage underneath. Simply add a door to create a garage or shed that can be used to store anything from deck furniture to pool floats. Raised decks are also a good way to extend second story living space.
Composite decking is ideal for raised decks as it provides the classic look of real wood without requiring time-consuming and expensive maintenance, thus giving you more time to enjoy those lazy summer days.
Deck Under Cover
A veranda or cover over a deck area can help create an intimate space for dining with friends or relaxing with your favorite book or podcast. Not only does a veranda offer a bit more privacy than leaving your deck open, but it can also be used to provide shade for particularly hot days or to provide cover when raining – further extending your enjoyable time outdoors. It can also serve to create a center piece for your back yard.
Composite decking is more durable than traditional wood decking, making it perfect for a high-traffic veranda or covered deck. Whether you host blow-out barbeques or small gatherings, you can be sure that composite decking will hold up to the wear and tear of daily use.
Pool Decks
Who doesn't love swimming in a private pool or relaxing in a bubbly hot tub? Add a touch more luxury by wrapping your pool with an elevated deck or create a walkway connecting your pool to an existing deck. When choosing the material to build your deck or walkway you will want to be sure that it can withstand damp conditions.
Unfortunately, wooden decks will warp and rot after continued exposure to water, let alone to the chemicals needed to keep your pool clean. Luckily, composite decking is a great choice for pool decks as it does not splinter or crack. Even better, composite decking does not retain water like wood making it slip resistant and reducing the chance of falls and injuries.
Deck Building with the Best
Construction professionals know there is nothing worse than a completed project that leaves unsightly fasteners exposed. Using the pneumatic InvisiDeck® tool, the InvisiDeck® I-CLP Clips are inserted into the groove of the deck board and secured with SCRAIL® InvisiDeck® Fasteners for a sturdy and smooth surface in one easy step. SCRAIL® InvisiDeck® System Fasteners and I-CLP Clips are compatible with most grooved boards on the market. With the SCRAIL® InvisiDeck® System, developed by the BECK Group, you can achieve a picture-perfect deck without visible fasteners in no time!