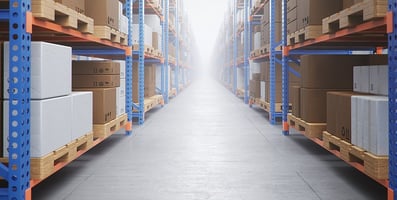 Looking for ways to upgrade your packaging game? There are lots of things you can do, like building strong pallets, for starters. Another option is to skip the packing tape that you'd normally use on the boxes and go with staples, instead. In fact, BECK offers the Mezger Stapling head systems for exactly this purpose. Here are the many advantages that come with using staples.
Creating Tamper-Resistant Packages
This is one of the top reasons to go with staples over tape. Why use packing materials that anyone can open with a dull pair of scissors? Staples are much harder to remove, which not only results in sturdier packaging, but also packaging that is less likely to be tampered with.
Think about it this way: The people who are receiving your packages don't really care if they end up having to tear the cardboard to open their products. Their concern is the safety of the products inside. Thieves, however, are typically looking to empty boxes as quick as they can—and leave behind as little evidence as possible. It's much quicker and easier to open and reseal a taped box, whereas removing staples requires tools and time, plus there's no way to put the staples back once taken out.
Staples Make Stronger Packages
We touched on this a bit above, but there's more to consider here. You want a stronger package not just to guard against potential theft, but for other reasons, too. Do boxed goods spend time in warehouses packed on pallets where they'll migrate around as inventory updates? Staples will help prevent wear and tear on seams and keep boxes together as they move around.
What about weather? If you ever anticipate your boxes needing to be outside for any length of time, keep in mind that tape comes off easily when exposed to moisture and humidity, but staples will stay put.
If you're packing heavy items in your boxes, these can put a lot of strain on the boxes themselves and the weak points where seams are taped together. Here again, staples make a stronger seal, which keeps your boxes together even when they're full of heavy products.
Staples are Good for Looks and Branding
How can that be? Especially when you can have tape printed with your logo? Well, with staples, you don't have to worry about creating specially made tape with your logo on it—which saves you money—nor do you have to worry about tape covering up whatever you've had printed on your boxes. Stapled boxes have a cleaner, more uniform look than taped ones, and that will reflect well on your brand.
Automate Packaging with the Right Stapling System
Ready to switch over to staples? BECK offers the staple systems you need—and in the sizes you need, too. For instance, the C 13 Mezger Stapling Head System works for coiled staples with a 13 mm crown using 1.0 mm wire, or you can size up to the B 36 Mezger Stapling Head System, which handles 36 mm crowns or 2.0 mm wire. There are also sizes available in between.
No matter which system you pick, they all share a few things in common. You can use them to fasten in any position, and they're all easily mounted with a built-in bracket. Choose left-hand or right-hand loading styles to accommodate your particular setup. Either way, these stapling systems are designed so that you can reload a staple coil in less than one minute for fast, efficient packaging.