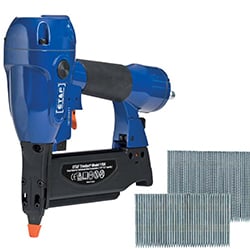 While pin fastening has been a commonly used practice in commercial construction for more than half a century, many are still skeptical of the pins' ability to fasten to steel as securely as a screw. However, when driven pneumatically steel pins are firmly embedded, which allows for a holding power of equal, if not greater, value to screws. While some might be unsure if steel pins are a reliable fastening solution, they have proven to perform well consistently in a variety of applications. Here are the ins and outs of steel pins – how they work and why they can be successfully used in place of screws.
Pins are made with high-grade steel, and then treated through a unique heating process that, once hardened, makes them malleable and extremely strong. Their ballistic-shaped point drives the pin uniformly, which eliminates the need for pre-drilling and prevents the pin from tearing upon insertion. During the drive, steel rebounds against the pin. This compressive force creates a strong bond between the shank of the fastener and surrounding material.
Steel pins are available for a variety of applications, so it's important to choose the right pin for the job. Each pin has its own knurling pattern, which is uniquely designed for the characteristics, performance, and material to which it's fastened. When used appropriately, steel pins often have a stronger holding power and more durability when compared to alternatives like screws. Reputable organizations such as the Cold-Formed Steel Engineers Institute (CFSEI) and the Steel Framing Alliance (SFA) have expressed their support of steel pins as a reliable fastening solution.
There are two types of machine pin fasteners: quick-release and semi-permanent. These fasteners are installed differently and are used for separate applications. The quick-release pins are self-contained, and drive with the help of a spring-loaded mechanism. Quick-release pins are often used in manufacturing, because as their name implies, they drive and fasten rapidly. Semi-permanent pins are fastened pneumatically, thus requiring pressure for both installation and removal. Semi-permanent pins are stronger, more durable, and longer-lasting than their quick-release counterparts.
In addition to choosing a type of pin, one also must consider the tools to be used during installation. For steel pins that must be installed pneumatically, ET&F® Fastening Systems has the right tools for the job. The TRIMFAST® MODEL 110A is a fiber cement and wood molding to steel fastening system that drives pins into popular trim materials like steel. The tool features an easy-load magazine, compact design, and is lightweight. This new and improved model has an adjustable overdrive control, directional exhaust port, and last nail lockout to prevent blank firing. At 100 psi maximum air pressure, the tool consistently countersinks the fasteners even when used with hardwood moldings. For a tool that can fasten steel pins efficiently and effectively, consider ET&F Fastening Systems for your next project. Click below to learn more.