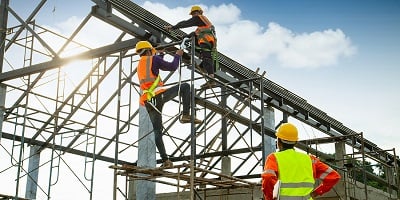 Steel is one of the most often used materials in construction today. From skyscrapers to bridges to warehouses, steel provides nearly unparalleled structural integrity in a variety of building situations, while also maintaining a moderately low-cost price tag when compared to other structure materials.
Although new structure materials like mass timber provide exciting possibilities for the future of construction, steel has earned its position as the structural workhorse of construction. Let's take a look at the features and advantages of steel structures.
Strength and Durability
Structural steel components are both stronger and lighter than weight-bearing concrete or wood. Despite its greater strength, steel is also up to 50 percent lighter than its wood equivalent. As a result, it can better withstand extreme forces such as earthquakes or extreme winds. Furthermore, unlike wood framing, there's no worry about mildew or termites rotting a steel structure.
Cost and Production
Steel remains moderately cheap when compared to other structural materials, due in large part to the ease with which it can be manufactured. Plus, unlike wood, steel can be manufactured to meet the needs of a specific project. Therefore, in addition to being able to cut steel to specific lengths necessary for construction, building planners can adapt the material for use in a variety of conditions.
Easy Installation
Steel structures are often manufactured off-site to a specific design created for an individual construction project. As a result, steel can be shipped in a "ready-to-be-erected" condition that helps speed construction time significantly as there is no need to measure and cut steel beams when they arrive on site.
Safety
Steel can withstand a variety of hazards ranging from natural disasters like earthquakes and hurricanes, and steel structures are highly fire resistant. During production, flame-retardant coatings are added to steel to increase the fire-resistant property of structural steel. Thus, as the amount of steel used in a building is increased, the threat of fire is reduced.
Versatility
From bridges to warehouses to skyscrapers, steel can be used in a variety of situations thanks to its strength and relatively light weight. With steel ceiling joists, steel can be used to create huge, enclosed spaces that are not possible with concrete or wooden structures. Furthermore, steel structures are highly adaptable as beams and can be repositioned to accommodate an addition to a building or modified for future applications by adding additional steel plates to flanges so the structure can withstand greater loads.
Fastening It All Together
Steel construction can call for fastening steel to other steel, or to wood or cement panels. Regardless of the application, your steel fastening needs can be met with ET&F® fastening systems and pneumatic tools that provide efficiency in light gauge steel construction. ET&F®, a member of the BECK Group, makes a variety of steel fasteners and tools made to penetrate the hardest substrates, making for a more efficient and safer work environment.