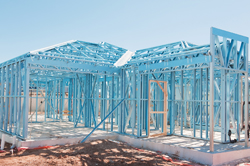 As a contractor, you likely keep an eye out or an ear open for any new tools or fasteners that can help you do your job quicker, saving you time and labor costs. And every once in a while you stumble upon something new and exciting being offered in the industry. Like most, you probably feel like you have seen it all. But there's a relatively new fastener out there that's making a splash and you might want to take a look. In fact, many are actually making the switch from wood to steel studs because they have found a great fastener making the change worthwhile.
You have heard the debate before, wood vs. steel studs. Which is better? Which is cheaper? Which will be more durable? Which will make the job easier? Maybe you have worked with both and already have your own opinion. But let's take a look today at steel:
If you have worked with steel studs before, you likely know the benefits of them. If not, you may be interested to know there are some significant reasons to consider a change.
Cost- they are cheaper than wood
Always straight – no warping, shrinking or splitting
Lighter – easier to carry and install
Fire resistant, rot and insect resistant
If you are used to installing wood studs, making the transition over to steel studs can be a slow go at first, especially due to the difference in weight and the overall flexibility with steel. You may also notice steel studs feel less steady, but only until drywall, wood or trim is attached. Then steel will feel as stable as wood. Those who have made the change say after a short time, they felt more comfortable working with steel and even prefer it to wood.
We can hear all the long-time wood stud users chortling. And we realize that there are two sides to every story. So to be fair to wood, here are some benefits. After all, a good decision is a well-informed decision:
Wood is more flexible than steel which affects workability
Easier and more cost effective in terms of recycling
More energy efficient
Quieter - wood does not reflect sound vibrations
So there you have a true comparison, and you can now say you have a clear depiction of the benefits of using steel vs. wood or vice versa. If you were looking to make a change or a comparison, we hope this helped. And we realize, with that said, the debate will likely not die here. But like it or not, the revolution of light gauge steel construction is upon us and can't be ignored.
The BECK Fastener Group® has responded to the need for a fastener that's ease of use is coupled by its long term durability. A member of the SCRAIL® family, SteelThread SCRAIL® was introduced recently and has made a positive impression with contractors. SteelThread SCRAIL® can be used with the innovative InvisiGuide device for decking applications featuring steel joists. This saves you time and money during light gauge steel construction projects (such as attaching composite deck boards to steel). This new design of thread is shot like a nail using a collated nail with a pneumatic device to connect gypsum or wood with steel. It ensures controlled displacement of the penetrated steel material. Its patent-pending threads firmly connect the fastener to the steel stud. The holding power here is incredible. And the SteelThread version is just as adjustable and removable as regular SCRAIL® collated fasteners. So making mistakes is no longer an issue. Simply remove it, readjust and re-install.
Take advantage of the enormous time-saving potential offered by SteelThread SCRAIL® in light metal, drywall or decking installation. The patented special thread allows for both excellent holding power in profiles of 0.5mm (24ga) to 1.6mm (16ga) thickness as well as subsequent screwing and readjustment, without damaging the material.
Wherever steel support joists are used, whether it is light gauge steel construction, drywall to steel fastening, or deck installation, the SteelThread SCRAIL® circumvents the arduous and cumbersome efforts usually involved in fastening screws.
So the next time you order wood studs with your distributor, you might consider the steel alternative. As with anything new, it's worth a try, and so far the response is positive.
BECK pneumatic tools and fasteners are available through Fasco America, their North American Master Distributor. The BECK Fastener Group® has more than 100 years of expertise in supplying for the trades. We value innovative technology, creative solutions, and quality customer service.
To learn more about SteelThread SCRAIL® and the other fasteners available through Fasco America® and the BECK Fastener Group®, contact our main office or the Territory Manager serving your area. Visit us online to learn how we fit into your latest remodeling project! Fascoamerica.com