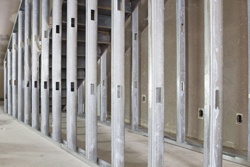 The Steel Framing Alliance indicates that more than 40 percent of commercial structures are now built with metal studs and nearly 500,000 homes have been built with steel framing over the past decade. Times have certainly changed as steel studs have gained popularity. Even though they are more costly than the traditional wood stud, they offer superior quality and strength to the structure once installed.
We've discussed the anatomy of the steel stud before, so now let's look at 10 benefits to builders that the Steel Alliance lists:
Benefits to the Builder:
Substantial discounts on builders' risk insurance
Lighter than other framing materials
Non-combustible
Easy material selection - no need to cull or sort the pile and small punch list
Saves job site time with ease of panelization off-site
Straight walls and square corners
Windows and doors open and close as they should
Less scrap and waste (2% for steel vs. 20% for lumber)
Price stability - price spikes are extremely rare
Consumer perceives steel as better
What has tripped builders up over the years is finding the right fasteners to keep up with the ease and durability of steel. That's why The BECK Fastener Group® introduced the SteelThread SCRAIL®. The holding power is incredible. And the SteelThread version is just as adjustable and removable as regular SCRAIL® collated fasteners. So making mistakes is no longer an issue. Simply remove it, readjust and re-install.
Take advantage of the enormous time saving potential offered by SteelThread SCRAIL® in light metal, drywall or decking installation. The patented special thread allows for both excellent holding power in profiles of 0.5mm (24ga) to 1.6mm (16ga) thickness as well as subsequent screwing and readjustment, without damaging the material.