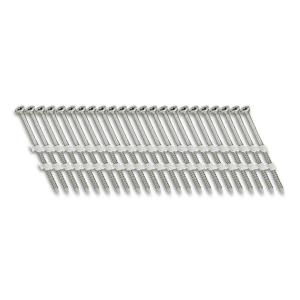 Fasteners are a crucial element to all construction and choosing the right fastener can make or break the end result of any project. Recent innovations in building materials have allowed for choices in fasteners that offer superior performance in terms of durability, finish, holding power, and speed.
Today's builders work on thin margins, a fact that we at BECK take into account when designing SCRAIL® fasteners that boost job site efficiency and productivity. The right fastener for the job can significantly reduce callbacks and repairs. Used in conjunction with pneumatic tools, like the full line from BECK America, SCRAIL® fasteners can take your projects to a whole new level.
Holding Power
The holding power of a fastener makes the difference between frequent callbacks and repairs versus a build that lasts. Due to the threading that runs down the shank, screws have much greater holding power than nails. The SCRAIL® hybrid design provides superior holding power compared to collated nails by taking advantage of this fact.
Framing stability relies on screws that have been properly sunk into studs and joists. Creaking steps and stairs can be prevented by the same principle thanks to the adjustable nail screw design. Using SCRAIL® fasteners for sturdier furniture increases holding power and thereby maximizes load capacity.
Durability
Corrosion resistance is essential for durable and lasting joins. Fasteners come in different finishes, including galvanized varieties that are zinc coated to prevent rust. It is crucial to select the appropriate fastener according to the environment and elements the fastener will be exposed to. SCRAIL® are available with electro-galvanized finishes, and the FasCoat® finish can withstand up to 2,000 hours of exposure to salt spray, as well as 304 and 316 grade stainless steel.
Finishing Details
The finishing of a project is extremely important for clients, this can be in both function and form. When working on stairs, you don't want the fastener sticking out causing an uneven finish. Sinking a collated fastener with a pneumatic tool allows for a clean, flawless finish once the wood filler has been applied. Hidden fastening systems such as the InvisiDeck® Hidden System allow for clean, smooth surfaces. SCRAIL® fasteners can also be matched to more than 2,000 colors.
Speed and Efficiency
The construction market aims to get more done with a limited workforce, so the speed and efficiency with which fasteners are installed makes a significant impact on the profitability of a project. Pneumatic tools and collated fasteners have dramatically cut time and cost on job sites. While collated nails have superior speed, collated screws retain maximum hold. SCRAIL® collated fasteners combine the best of both worlds thanks to the combination nail screw design and easy application with pneumatic tools.
Trust BECK with Your Fastening Needs
Give your construction project a competitive edge with superior fastening solutions. To learn more about the full line of quality SCRAIL® fasteners offered by BECK, check out the Construction Fastener eGuide: Types and Uses.