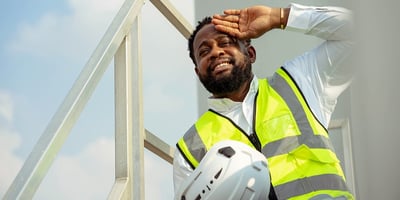 Summer is one of the most productive and challenging times of year for most construction contractors. Problems like extreme weather, an overly busy schedule, and poor air quality can all cause delays in production and poor overall efficiency. Sometimes these problems can even cause injuries, poor morale, and loss of work.
These problems have solutions. Using the right tools and fasteners, such as BECK's patented diamond coating for fasteners, for example, can help make your season more productive and profitable. The diamond coating ensures reduced friction, fewer wood fibers destroyed, and higher withdrawal values, allowing you to work faster when using nails and staples made with this innovative technology.
Additionally, training workers to stay safe in challenging conditions and following summer-specific protocols are essential steps to overcome some of summer's biggest challenges. See below for more details on these challenges and what you can do about them.
Heat Injuries
Heat injuries can happen any time of year, but summer is a time when heat injuries can be the most severe, most frequent, and most likely. Workers are at risk of overheating, as well as burns, from hot materials stored in the sun.
Heat illness prevention is an important topic on the OSHA website. OSHA outlines employer responsibilities and provides a heat stress calculator that will indicate when heat stress is above safe limits.
Whether your employees are working in the sun or in a warm indoor environment, have a plan in place to acclimate workers to heat, measure and monitor heat stresses, and stop workers when the overall heat stress becomes too great. You can also:
Require workers to wear protective clothing when handling hot materials.
Whenever possible, store materials in locations out of direct sunlight.
Provide workers with water stations and shade stations.
Schedule mandatory breaks to give workers a chance to cool down.
Finally, provide ongoing training to workers, to empower them to protect themselves from heat. Cultivate a culture of safety by showing your workers that you're serious about protecting them from heat stress.
Poor Air Quality
Wildfires are a common summer occurrence that can contribute to poor air quality. OSHA guidelines help employers keep workers safe during times of wildfire smoke.
Having a plan to work indoors or in areas that are less affected by wildfire smoke when experiencing poor air quality can help keep your workers productive throughout the summer. Investing in HEPA filters and electrostatic precipitators for indoor work environments can help keep indoor air at safe levels, even as the outdoor air becomes unhealthy.
Overly Busy Schedule
Overbooking is a big risk if you're working in an area with high demand and not enough contractors. If your schedule is overbooked, you could find yourself working employees too hard while disappointing customers at the same time. Maximizing efficiency and boosting your workforce can help.
Hire a project manager

to keep staff organized and

working as efficiently as possible.
Grow your staff by leasing workers or hiring temporary workers as needed.
Manage client expectations by keeping them informed of changes to the schedule as the summer wears on. Most disputes with clients can be avoided by communicating.
Beat the Heat: Get Work Done Faster with Time-Efficient Tools and Fasteners
Using the right tools and fasteners are important for staying productive and maximizing your workforce potential. Pneumatic tools can help your team move faster around the site. Collated fasteners, like SCRAIL® , make for faster installation since workers are individually loading nails one at a time. Fasteners that are strong, like BECK's fasteners with diamond coating, have a special patented coating for nails and staples that will improve your team's performance. The diamond coating offers at least 20% better holding power and 10% reduced penetration resistance. That means less strain on the wrists, less wear and tear on the tools, and maximum performance, even in difficult applications. Your workers can get more done, your tools can last longer, and your clients can enjoy the benefits! Learn more about Beck's Diamond Coating Below ⬇️