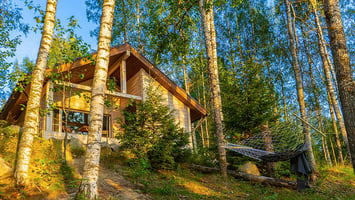 Summer homes aren't something that every client can afford to maintain, but for those that can, solid construction is a priority. After all, these are houses or cabins that will probably spend part of the year empty and should be able to handle the lack of constant vigilance. Therefore how you build and what mistakes you avoid from day one is so important.
Fortunately, constructing a strong summer home isn't extraordinary hard. Using the right tools, techniques, fastening materials such as BECK's LignoLoc® Wooden Nail System, and of course, avoiding the following key mistakes will all help keep a summer house in top form.
Location, Location, Location
One of the most fundamental missteps that any contractor or their client can make when starting on a new summer home is choosing a bad location. A well-built home located on a poorly chosen site will suffer damage needlessly or become uncomfortable in some key way that the owner might easily blame the builder—even though the real fault is with the location.
Examples? Well, let's say you build a nice summer cottage in a stretch of a swampy, waterlogged forest. No matter how sturdy that house is, it will eventually have problems with both insect invaders and destructive humidity. It's better to avoid the whole mess in the first place by situating carefully. Other good examples include overly exposed coastal homes on storm-prone shorelines or weekend retreats situated where there's hardly any breeze or shade.
Lack of Future Planning
Related to a poorly chosen home location is the mistake of building the entire retreat without planning for future uses. It's easy to consider a summer home as an informal residence for brief visits. Because of this, your client might feel the temptation to invest less in carefully choosing a layout or robust materials. Discourage this.
Your client can't be sure that they won't use the home more frequently later in their life or that they won't need to expand it for new family members. You as a contractor should strongly recommend that they pick the home's layout with an eye towards room for growth and that right from day one, they let you build a well-sealed, well-ventilated home that can stay solid for decades or more.
Negligent Climate Control
Summer homes should be built with materials for maximum comfort regardless of the heat outside, and they should also be built to offer solid heating in case they're needed in winter. In other words, even if a home is supposedly a summer retreat, preparedness for all climates is important.
For summer heat, a summer retreat should also be designed to maximize internal coolness. This planning doesn't just involve HVAC installation and using technology, it also means fundamentals such as orienting the home for minimal internal exposure to the worst of the summer sunlight, or adding shade and ventilation for maximal freshness during the afternoons or evenings.
Failing to Plan for Utilities
Depending on how remote or isolated your client's property is, it might not have ready access to key utilities such as electricity, water, gas, or communications lines. You need to plan for these possibilities by asking your client about what's available for the site and offering them alternative options for any utilities that may be lacking.
For example, if you're going to build in a place where there's no gas connection, then you might consider a home that uses entirely electrical heating and cooking appliances, or vice versa. Or you might recommend that your client install a cistern for possible water shortages. If there's no electricity at the site, you should recommend creating a space for a generator that can be easily accessed.
Failing to Use the Right Materials
All homes should be soundly built right from their foundations. Even if they're just vacation cottages, quality is important given the investment of time and money involved. Because of this, you should recommend that your client's summer house be built with professional materials and to professional standards.
For log cabins and all-timber homes, you should also suggest the use of strong, and environmentally compatible fastening materials, such as BECK's LignoLoc® Wooden Nail System. These shootable wood fiber nails can firmly bind together the boards of a house while conserving a seamlessly natural wooden look anywhere they're used. Click below to see it in action!