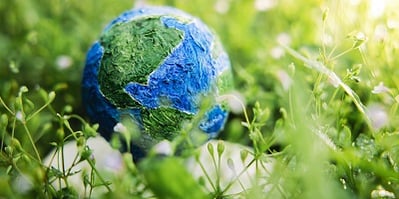 In construction circles, one of the top topics these days is sustainable construction. It's important not only to builders and project managers but to homebuyers, renovators, and others on the consumer side of the spectrum.
There are lots of reasons why sustainability is important—and we're going to get into that below. We'll also show you a bit about the LignoLoc® Wooden Nail System developed by BECK, which is the first collated wooden nail system. The wooden nails are made with renewable material making it a fantastic addition to your sustainable building projects.
It's About More than Green Products
Many think of sustainable building as using only green products—like our LignoLoc® wooden nails, for example, which are sustainably made fasteners made of compressed European beech wood. However, one of the key things that makes sustainability important is that it's not just about creating structures entirely out of green products.
It's also about considering waste streams and the lifecycle of building materials. One material may not necessarily be considered "green," like steel framing, for example. However, steel is easy to recycle, which means that at the end of a building's lifecycle, the framing can be torn down and recycled into new products and materials.
Ultimately, sustainability is all about preventing waste while reducing reliance on non-renewable materials harvested through mining or other environmentally damaging processes. If it can be recycled or reused rather than dumped in a landfill, then the material in question has an element of sustainability.
Unsustainable Resources are Finite
Mined metals, ingredients mined to make concrete, petroleum-based products—these are inherently unsustainable products and materials, and the reason why is because they are a finite resource. Eventually, oil wells run dry and mines stop being productive, and that's a big reason why sustainability is so important. Think of sustainability as a kind of futureproofing. Rather than waiting for unsustainable supplies to run out, manufacturers are taking a proactive approach to develop new renewable materials with virtually infinite supplies.
Sustainability Protects the Environment
One of the biggest reasons to go sustainable is that it places a big focus on the environment. Even though sustainable practices focus on using renewable and recyclable materials, these practices also go hand in hand with reducing pollutants, saving energy, reducing CO2 emissions, and more.
Fewer plastics used in construction means less plastics in landfills and less microplastic flowing into bodies of water. The more builders can reduce reliance on petroleum products, the fewer CO2 emissions are produced. And speaking of energy-conscious buildings, reducing energy usage, or switching to sustainable energy sources means not only lower emissions but also better, more efficient buildings that cost less to operate.
Working on Sustainable Building Projects? Choose LIGNOLOC®
Sustainability is the way of the future—and the LignoLoc® Wooden Nail System can help you pave the path to a greener, more sustainable future. As mentioned, this fastener system is a world first in that it uses collated wooden nails made from compressed beech wood and there is no predrilling. That makes it ideal for timber projects—including mass timber construction, which is a sustainable trend you'll be hearing more about in the future.
LignoLoc® is a revolution in design, one that comes to market with 70% reduced CO2 emissions compared to traditional fastener systems. The science behind the way these fasteners work is unique, too. Each time you drive one of these fasteners, the lignin within the wooden nail heats with friction. This causes it to weld with the surrounding wood, which forms an incredibly strong bond. Want to learn more about this system? Click below to get all the details.