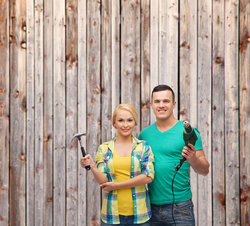 There has been a long-running debate amongst contractors with regards to which fencing fasteners are best - screws or nails. Both most certainly have their merits…but they also have significant setbacks.
Screws are often selected because of their ability to better secure fencing to rails. High quality screws can have superior resistance to weathering. And while screws can be more safely removed from fencing materials like wood and vinyl than nails, they also can't fit into tight spaces, and are more expensive. As a result, contractors may be tempted to take shortcuts such as using fewer screws, resulting in lower structural integrity.
Nails are definitely more affordable than screws, but they have the major drawback of growing looser over time. Additionally, they don't weather as well. While they may work for temporary fencing, errors are harder to correct, and repairs are more likely to result in stripping of the wood.
It's Time to Think Outside the Box With SCRAIL®
Modern industry professionals take the time to become familiar with new and improved fence fasteners. By "re-inventing the wheel", the BECK Fastener Group® has come up with solutions that go above-and-beyond the capabilities of standard devices. Enter SCRAIL® and the F58AC Pneumatic Nailer. These fasteners and tool have been specifically engineered to better meet the needs of fence installers and end-users alike.
The beauty of SCRAIL® is that it combines the best of both worlds. This product has the superior strength of screws, while still offering the ease and speed of nails. Available in numerous sizes, these fencing fasteners can rise to any occasion, and are resistant to rusting.
The F58AC RHN20-90 SCR is an incredible pneumatic fastening tool that will get the job done regardless of whether you're installing a wooden or a vinyl fence. This tool makes things as easy as possible on the user. Its unique side and rear magazine loading points are industry innovations, and its system for clearing jams further simplifies the process. When used with SCRAIL®, you have a winning combination that settles the debate once and for all.