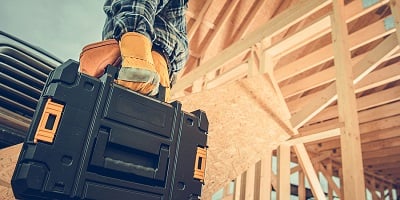 The market for power tools is so large that it can be overwhelming when trying to choose the "right" power tool for your next project. Understanding the advantages and differences between pneumatic tools versus electrical tools can bring you a step closer to determining what will work best for your business and future builds.
Tool Considerations
Experienced construction professionals understand that when choosing a power tool for a job, there isn't necessarily a straightforward option and there are multiple aspects to think about. To start, consider the work environment. Will you be working in a space where you have access to a high-quality air line? Or will you be working in a space that only has access to electrical sockets?
You should also consider the specific work involved. Are you looking for a tool that packs as much power as possible? How important is accuracy? Does the weight of the tool make a difference to you? Ultimately, the answer depends on the type of project you are working on, the materials being used, and the goal you are trying to accomplish. So, will it be pneumatic or electric?
Pneumatic Tools
Pneumatic or air driven tools provide distinct advantages over their electrical counterparts. Pneumatic tools, such as the BECK Group's line of FASCO® strip nailers and coil nailers, provide unparalleled efficiency on the job site. Particularly when they are used in combination with their SCRAIL® fasteners that can be installed with the speed of nails while providing the holding power and adjustment abilities of screws. A pneumatic nailer can save time and labor costs by increasing efficiency.
In addition, pneumatic tools can provide increased safety and comfort for the user. Pneumatic tools, powered by momentum from compressed air, do not get hot even after extended use. Furthermore, damage to the tool's compressed air supply will not create a safety hazard on the job site, as compressed air is harmless in most construction scenarios. If the air supply hose is damaged, simply replace it and continue working.
Finally, pneumatic tools come in all shapes and sizes offering contractors a variety of options to suit their needs. Whether you are installing drywall or adhering a steel structure to a foundation, there is an air-powered tool that can do the job.
Electric Tools
Electric tools are known for their convenience and mobility. In most job sites, you will have access to a power source to plug in your tool or charge your batteries. Electric tools are readily available from major construction vendors, so if you're in a pinch you can easily pick up a new tool for a job. And of course, cordless tools offer increased mobility that can be extremely valuable on the job site—anywhere you can go the tool can come with you.
However, electric tools carry the risk of shocking the operator if the tool, battery, or cord has been damaged. Additionally, the motor on an electric tool can get very hot after extended use, which can cause discomfort for the operator, and also create a fire hazard on the job site.
Buying the Right Tool for the Job
If performance and efficiency are what you seek, the BECK Group's lineup of FASCO® pneumatic power tools provides unparalleled effectiveness and efficiency. From Coil Nailers to SCRAILers, which can install SCRAIL® fasteners with the speed of a nail but provide the holding power and adjustment abilities of a screw, the BECK Group continues to be a leading innovator in the construction industry. To learn more about how pneumatic tools can help your business, download our white paper that explores the benefits of pneumatic tools in depth.