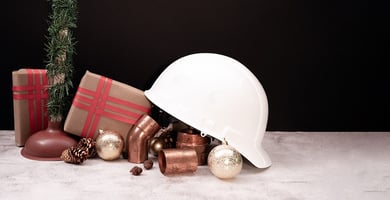 If you have a builder in your life, you know that receiving a new set of power tools from a solid brand would be the ultimate gift this holiday season. There are some essential power tools that no construction kit is complete without. Luckily, BECK has your needs covered with a wide selection of rugged tools for any construction niche one might have. Let's dive into the details.
F70G FENCE 45-315 Fence Staple Gun
For builders who work regularly with cable, wire and fence installation, the BECK F70G Fence Staple Gun is a must! It is a completely cordless, heavy-duty tool that will make countersinking large staples into pressure-treated lumber a cinch. This balanced gun offers a reduced weight despite its power and can be adjusted tool-free depending on the needs of the job.
The F70G is ergonomically designed for comfortable and easy handling throughout any season of the year. It offers high weather-resistant endurance regardless of the outdoor conditions it's used in. The F70G Fence Staple Gun is specially built for use in fences and fastening other types of wire to wood construction material. This makes it a perfect power tool for all kinds of house and property fencing, pet enclosures, poultry, animal fences, or even for installation of heavy duty cables and utility wires.
BECK's F70 Joist Hanger Nailer looks much like the F70G Fence Staple Gun but offers a whole other category of usability. This ruggedly tough cordless gun is perfect for nailing down metal connecters, roof joists, rafters and joists or trusses in construction projects. It also allows contractors to drive corrosion resistant joist hanger nails under any conditions.
The F70G Joist Hanger Nailer's ergonomic design provides easy and safe handling while also maintaining the bulk necessary for powering nails into surfaces. Cordless power through FASCO®'s (a member of BECK) long-lasting fuel cells also creates a much safer work environment that's free of tangled cables.
Another powerful safety feature of this nailer is its full sequential actuation firing system with single shot actuation capacity. This ensures an ideal mix of lowest accident risk and fast nailing capability among today's nail gun designs.
F70G RHN20-90 SCRAIL® Nail Gun
FASCO®'s F70G RHN20-90 SCRAIL® Nailer is an almost unbeatably versatile power nailer. It's ideal for use in flooring, subflooring, deck construction, framing work and manufactured housing construction. In addition, this gun is also ideal for simpler construction projects like home repairs, pallet assembly or just for building tree houses and garden sheds.
The F70G RHN20-90 SCRAIL® Nailer is a mix of heavy-duty design and handling ergonomics while being balanced enough for easy, safe handling. Its rubber comfort grip is ideal for slip-free handling that stays comfortable in any weather conditions. Like the other nail and staple guns above, this SCRAIL® Nailer loads from the rear and operates on a full sequential actuation firing system. This combination of handling specs ensures both maximal safety and speed of operation.
Finally, we come down to BECK's ruggedly simple F70G RHN22-90 Duplex Nailer. This tool is ideal for applying 22° Plastic Strip Duplex nails in light wood construction projects such as scaffolding, concrete framing, crates, sheds, wood garden beds and dozens of other simpler wooden structures. Like the previous nailer's, the F70G RHN22-90 shares a mix of excellent balance and lower weight combined with heavy nailing power. This nailer also offers tool-free depth of drive adjustment and a specialized nose that's designed for Duplex nails.
The same rear-loading and full sequential actuation firing system shared by the other F70 guns above is also fully present in the Duplex.
Other Tools for Different Needs
Still unsure what tool might make for the perfect gift this holiday season? Click below to view all that BECK has to offer!