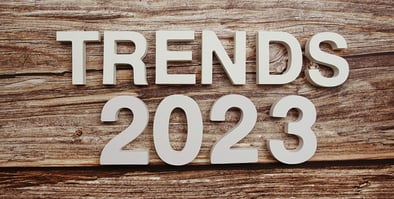 The new year is here—and builders everywhere are gearing up and getting ready for the trends that will be big in 2023. So, what should you expect in the coming months? The big themes will revolve around labor, costs, and innovative products such as the LignoLoc® Wooden Nail System developed by BECK. This patented line of wooden fasteners and tools supports coming trends by offering a sustainable, green alternative to traditional fasteners. These fasteners also work well with up-and-coming new building systems— we'll discuss that more below along with some other trends to be aware of in the coming year.
Labor Shortages Expected to Continue
In April 2022, the U.S. construction industry reported about 440,000 job openings, which represents the highest levels for the industry since data started being collected—and it's a problem that forecasts say will get worse.
The causes? There are many. Older generations are leaving the workforce, and with many of the younger generations seeking college educations focused on technology and other areas, the flow of new workers into the construction industry is drying up. That's combined with surging demand for both public and private sector infrastructure projects.
Whatever the causes, be prepared to face a competitive hiring market. Place job ads early and build a network of people interested in working for you to make it easier to fill positions as they come open.
New Construction Materials and Methods Driven by Sustainability
Right now, we're seeing a rise in demand for various new materials and construction methods. This includes items such as:
Building supplies made from recycled products
Engineered wood
Rapid harvest lumber (like bamboo)
Net-zero and energy-efficient builds
Locally sourced products
The common theme among each of the above-listed products and methods? Each places a focus on sustainability or environmental friendliness. The bottom line is that just about everyone, from future homeowners to project managers, is looking for new ways to create buildings that use less energy and that are made from materials that cause less environmental damage.
That's why demand for products like the LignoLoc® Wooden Nail System is growing. It's the first collated nail system that is made from compressed renewable central European beech wood, which allows builders to keep mass timber construction projects and other sustainable projects completely metal-free.
Modular Building Practices
This trend dovetails with both the labor shortages mentioned above and the sustainability trends that we're seeing. Modular and prefabricated buildings are becoming more popular as a solution to both issues.
Where labor is concerned, modular building components are typically assembled in a factory setting on an assembly line, which makes the process very labor efficient. When it comes to on-site building, there is a lot less work involved in the final assembly—and that means fewer construction workers are needed to finish the final build.
On the sustainability front, many of these building systems are designed with the environment in mind. They're made with sustainable materials, some feature metal-free mass timber construction, and many make use of recycled products.
Costs Going Up
Costs started going up with the pandemic, which caused massive and widespread supply chain disruptions that affected builders everywhere. While we're not seeing as many supply chain disturbances these days, there are still some manufacturing and shipping delays—and there are also labor shortages among manufacturers. The end results. Costs are forecasted to keep rising through 2023, albeit at a slower pace than in previous years.
Keep Pace with Trends and Try LignoLoc®
To help you get started with bringing these trends to your business, the LignoLoc® Wooden Nail System from BECK is a great place to begin. This system relies on central European beech wood from sustainable FSC forestry, which ensures that the wood used to make these fasteners comes from environmentally conscious sources. As such, this system uses 70% less CO2 to produce versus conventional fastener systems.
It's the ideal choice for builders who are creating green products or who need to create recyclable builds to fit circular economy requirements.
And LignoLoc® is also about to make a big technological leap that will put it at the forefront of modular building and automation. BECK is currently working on developing a flexible robotic platform using the LignoLoc® fastener system to automate the production of modular wall and ceiling elements.
If you want to learn more about this innovation, click below!