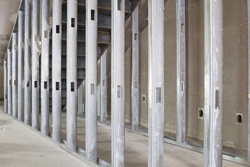 A wet basement is one of the most common problems of home ownership. Whether it's mold from dampness leaking through the foundation, or a burst pipe that floods the whole basement, it's something almost every homeowner has had some level of experience with. While we can't always prevent the cause of the moisture, we can build out basements that can stand up to it. Here are some tips on finishing basements that can reduce the likelihood of water damage.
First things first, inspect the foundational walls for signs of moisture. If moisture or mold is detected, you need to decide if you need to paint a sealant just on the inside or if the exterior needs to be dug out and sealed as well. If no moisture is detected, you may want to seal the inside anyway because the elements are never going to stop trying to find their way in. An ounce of prevention is worth a pound of cure.
For framing out your walls, we like steel studs. Steel is easier and quicker to install than wood. In the chance you do experience a water event, steel studs won't get moldy or rot. Steel gives you straight walls, square corners, and reduces material waste over traditional wood studs. Installing steel studs is simplified even more when you use a fastener designed specifically for the job. The SteelThread SCRAIL® series is inserted like a collated nail with a pneumatic device into plasterboard or wood to sheet metal. The patented special thread allows for both excellent holding power in profiles of 25 to 16-gauge thickness as well as subsequent screwing and readjustment, without damaging the material.
For wall material, we suggest paperless drywall. It behaves the same as traditional drywall. Both have a gypsum core, but instead of a paper exterior, paperless has a fiberglass cover that is resistant to water damage, and thus resistant to mold. This fiberglass also gives it a better surface strength which means it will hold up longer.
When finishing a basement, it's important to always consider what could happen if a moisture issue arises. Choosing materials like cement moisture sealant, steel studs, and paperless drywall will help reduce the impact of any potential leak. These materials may cost slightly more than their traditional counterparts, but they will last longer and are far less likely to need replacement. Steel Studs, installed with SteelThread SCRAIL®, are also extremely easy to install and save you time, which is the most valuable thing a builder can have.