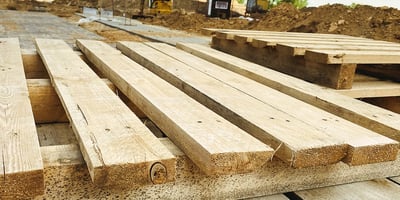 Your business relies on quality products, including quality pallets, to fulfill orders and meet the needs of your customers. A poorly constructed pallet or a pallet made from poor-quality materials can cause many problems. You might save a little money on your pallets by using cheap wood or fasteners, but is it worth it?
The FASCO® (a BECK brand) CN15W-57A ES MAG STIRRUP Nailing Head System for automation includes automatic sensor-controlled fastening to avoid dry fires and a customizable magazine for different coil sizes. This system works efficiently, and it's fast to reload, so you can finish projects quickly and then move on. BECK's 15-degree wire coil nails (High-Load) are designed to withstand a variety of challenging conditions, for years of use.
Below are some of the consequences of building poor-quality pallets, and good reasons to use FASCO® Nailing Head Systems.
Consequences of Poor Pallet Quality
Cosmetic damage to the packaging and the product. Staples and nails that stick out from the pallet can tear packaging during transit. It may not damage the product inside the package, but damage to the package can devalue the product anyway. A fastener that sticks out far enough can also damage the product itself, which is even worse.
Pallet failure leads to a mess. Even if the pallet itself isn't doing damage to the product, if the pallet leans or collapses causing products to spill, the result is often a time-consuming mess.
Potential injury. A weak pallet can cause a tower of products to fall unpredictably. The result can be an injury to loading dockworkers, drivers, and/or staffers.
Monetary loss. Injuries, accidents, and damage to products always lead to financial losses.
Shipment and order fulfillment delays. When a pallet fails, whether in transit or before it's loaded into a truck, can cause shipment and order fulfillment delays.
All these problems can lead to bad relationships with your customers and loss of business. So, is it worth it to build a strong pallet?
Benefits of Good Pallets
The benefits of good pallets are extensive and long-ranging. Below are some of the benefits of good pallets.
Time and energy savings. No longer will your staff struggle to prepare a pallet for shipment to a customer.
Keep pick-up and delivery dates.Good pallets make it easier to stick to a delivery schedule.
Meet productivity goals. When it's easier to stick to a schedule, it's also easier to meet productivity goals.
Transport larger loads on one pallet.A good pallet can withstand more weight and transport a larger load than a pallet made from poor-quality materials, and that means your company can operate more efficiently.
Fewer accidents.Good pallets are stable pallets and are less likely to cause accidents.
Good for your reputation and customer relationships. Ultimately, a good pallet helps instill confidence in your business. This plays a role in your business's good customer relations.
Use the Right Fasteners for the Job
It's important to use the right fasteners for the job, whether you're building pallets, re-using your old pallets, or building a structure. The FASCO® Nailing Head Systems are designed for efficient and effective fastening, so you can create long-lasting pallets that can stand up to the toughest wear and tear.
Our automated Nailing Head Systems offer fastening in many sizes for a wide range of industrial applications. Just to name a few are pallet and crate manufacturing, structural timber construction, and manufactured housing. Choose the tools that are right for your projects!