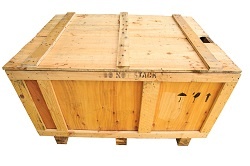 Imagine you're moving across the country to start a new job, stress surrounding the new opportunity and move begin to consume you. You've arrived to your new home and open your cardboard boxes to find some of your most prized possessions shattered and destroyed from the journey. Or imagine you're a craftsman who has just sent out a product for a client after months of creating and refining the piece. The client calls days later to tell you the piece arrived broken, all your hard work crumbled. Or maybe you're a shipping company that is struggling to make a profit because more often than not you're having to pay for the cost of broken items. In a majority of these cases, crisis could've been avoided if wooden crates were considered for the job. In this article we will review when and why wooden crates are your best bet.
Fit to Size. Unlike cardboard and tape, wooden crates can be built to fit the item being shipped. They can be built to exact dimensions to fit your client's needs. This customization is necessary for items that are fragile or high in value. Items like these, most likely, will not sustain over the course of a long-distance travel. Additionally, items with sharp edges or corners are concealed in crates which keeps them from damaging other items.
Extra Protection. Crates offer another level of protection that cardboard and bubble wrap can't. While crates are more expensive than the cardboard combo, you must consider the cost of replacement for the item being shipped, and more often than not the crate will be less. Especially for irreplaceable items or custom built pieces, paying extra upfront will save you in the future.
Can Handle the Heavy. While some items may not be considered high in value, you must always consider the damage they could have on your other valuable items. In most shipping scenarios, the load does not consist of one alike thing, but various products and packages. If along the road a heavy item bumps into or crashes onto other items, you're going to wish you considered crates. They are stronger and better able to handle the heavy items in any load.
Fasteners. While rubber bands and packing tape have been used for decades in the shipping world, some items and jobs require a superior hold. When wooden crates are properly fastened, no bump in the road can collide with the crate's success. Companies should turn to crating as a packaging option and be reassured that the crate has superior strength with the help of BECK.
A fastener that has the dual power of a screw and speed of a nail, SCRAIL® fasteners from BECK, are perfect for any crating job. SCRAIL® can be used wherever ordinary screws are used in the crating process, either as an assembly fastener or as a closure fastener. They provide the superior strength of a screw but are applied with a pneumatic nail gun, so they won't destroy the wood fibers during the application process. They can be applied twice as fast as collated screws and eight times faster than bulk screws and backed out like a screw, no crow bar necessary. They save time in the closure process for manufacturers, and labor time and cost at the destination site, making SCRAIL® fasteners essential to the construction of the perfect crate.
Instead of imagining the scenarios listed above, turn to crating as your packaging option for success every time.