When you install a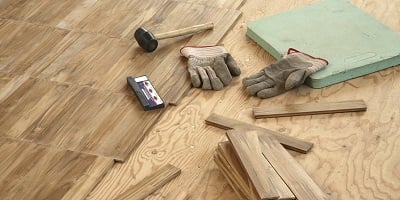 floor, it may look good for a while, but it may not stay that way forever. A big factor in the lasting quality of your floors results from the unseen subfloor. Subfloors give floors extra support. They attach to the flooring material, making them strong enough to support the weight of furniture, appliances, and traffic. Building codes determine the spacing and spans for subfloor installations. However, doing the bare minimum does not always give you all the support you need. Shortcuts in subfloor installation may lead to the dreaded squeak.
If you can get from one squeaky part of the floor to another non-squeaky part, the issue is probably with your subfloor. If, however, the squeak is with a bigger area or you see some movement, the issue may be with something else. Here are a few factors to consider in order to prevent squeaky subfloors:
Take Time and Glue One Panel at a Time
A common mistake that most installers make is gluing several panels at once during installation. Once the glue hits the air, it hardens. The longer it hardens, the thicker it becomes. There will be minimal adhesion when installing your panels if there is any delay, which results in squeaking after some time. Glue one panel after the other to avoid squeaky subfloors.
Poor Panel Storage
Even though most panels don't require much effort in maintenance, you can't neglect them. Always store them in a clean, dry place, away from direct sunlight. If they are damp, do not install your panels until they dry. This is especially important when you wish to install sensitive finish material. Improper storage and care can lead to warping and squeaking after installation.
Improper Panel Placement
During installation, you must anticipate the expansion of your panels. If there are no small gaps between the panels, there may be some buckling. Quality installation ensures that there is enough space between panels.
Rushing the Process
The process of panel installation isn't as simple as it seems. Rushing the process can lead to issues such as improper nailing and missing fasteners. After installation, check your subfloors for squeaks and make the relevant adjustments.
The Simplest Step to Prevent Squeak is Using the Right Fastener
Some fasteners are better than others. Nails, while they drive in easily, are smooth and likely to withdraw over time, leading to squeaking. SCRAIL® SubLoc® PRO from BECK is a better choice. Here are a few reasons to choose SCRAIL® SubLoc® PRO:
SCRAIL® SubLoc® PRO was developed to avoid subfloor squeaks that result from micromovement of the wood. The upper threads grab into the deckboard and prevent micro movement of the wood, even in the event of wood shrinkage.
No smooth shank between the upper and lower threads prevents board movement that can lead to squeaking and creaking.
They are compliant with 2018, 2015, 2012, and 2009 International Building Code® (IBC) and International Residential Code® (IRC), the 2017 Florida Building Code (Building and Residential) and comply with building codes for 8D and 10D fasteners in seismic areas.
They won the 2019 PTIA awards for Wood Screws.
In conclusion, SCRAIL® SubLoc® PRO has a lot to offer. It is versatile, quick to install and adjust, and eliminates squeak. Watch the video to learn more about the fastener.